Kia ora koutou!
Guess who's back, back, back again!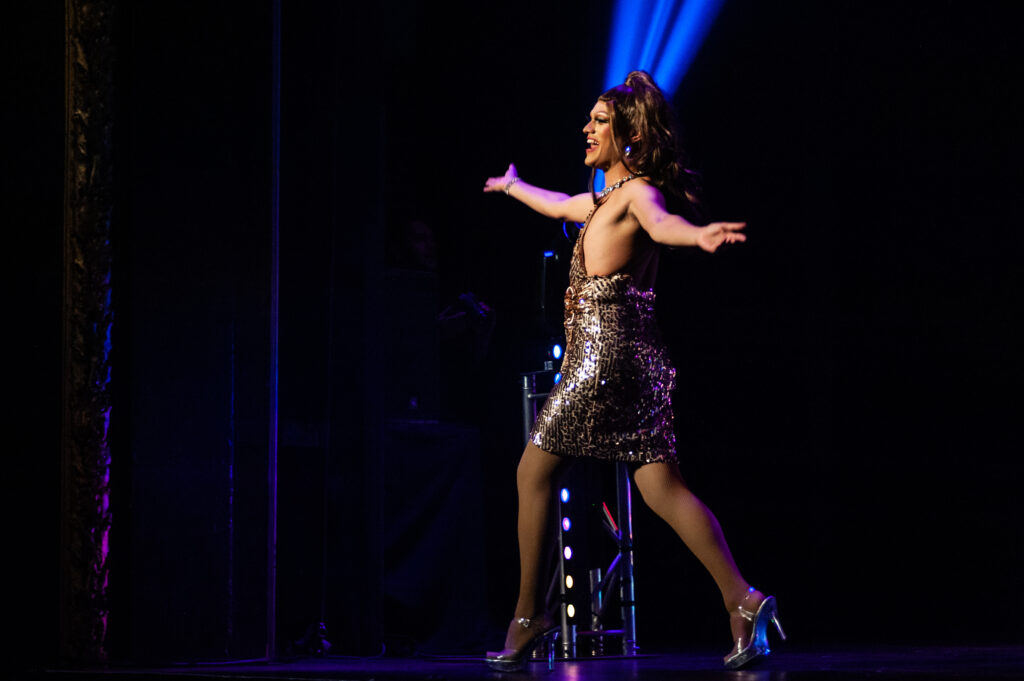 I enjoyed my time featuring on The Inner Saboteur a few weeks ago so much that I was absolutely giddy when Harold asked if I could fill in for them while they recover from the spicy cough. 
I'm back again for my 'All Stars Ru-demption' run to share my thoughts and feelings about the latest episode of RuPaul's Drag Race All Stars 7 alongside me is my friend, flatmate and avid Drag supporter Diva!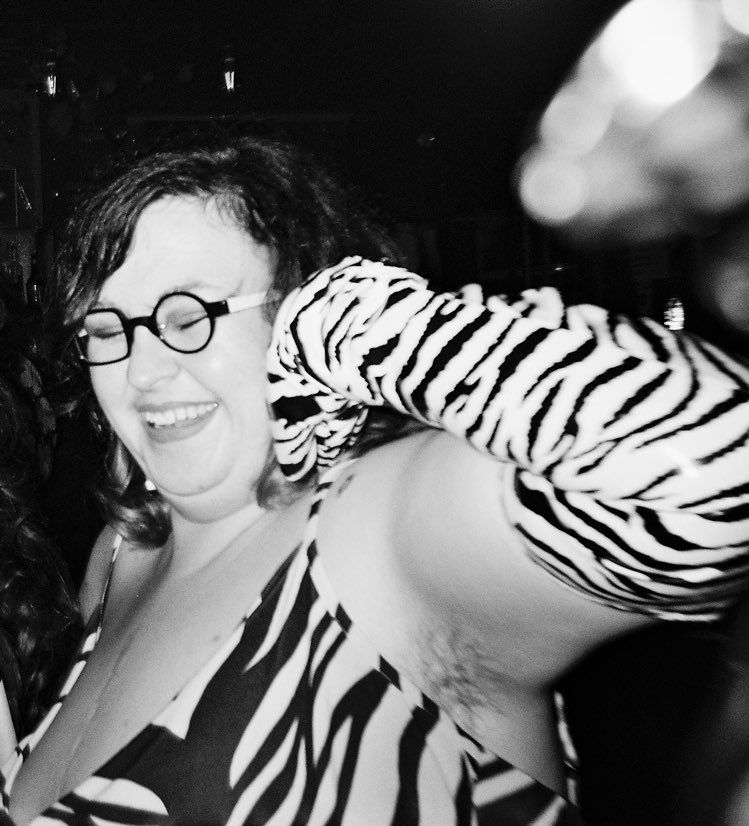 With only three more episodes until the season finale, we are definitely starting to see some frontrunners emerging.
To start off I asked Diva what they thought of the show so far. "I'm really enjoying the show so far, it's the most excited that I've been about a Drag Race season in years. Something about the camaraderie and the backstage banter in the werkroom is familiar in terms of the drag community, it's still a competition but it's people uplifting, supporting each other and having a good time, it's something we don't often see in a regular drag race season. Obviously, I'm excited to see Jinkx Monsoon again, she's a ginger with a cackle, I was also excited to see Raja as well, the earlier season queens really drew me into Drag Race in the first place, as it (Drag Race) was very new as a competition. The earlier seasons really showcased the talent, passion and conviction required for the art form.
I followed up with them about the Platinum Plunger twist and she had this to say: "It's not platinum, but I think it's a very fun twist that you can block someone from progressing in the competition, but please stop doing it to Jinkx—because I want her to win [Diva cackles]. It's great that there's no elimination aspect to this season of Drag Race, as it gives the queens a chance to showcase everything that they have prepped across the season." 
The episode opens with the performers doing the same walk back to the werkroom to untuck. Trinity, having won the lip-sync, boasts about finally joining the two-star club, while Jaida loudly announces she's the only queen to have three stars at this stage of the competition due to Trinity being blocked by Shea earlier in the season.
Yvie, the latest victim to be plunged, enters the werkroom and makes a beeline to Trinity asking her bluntly why she was chosen to be blocked. Trinity shares with the group that it was either going to be Yvie or Jaida that she would be blocked and because Jaida was in the top with her, the only choice left was Yvie. Trinity also shares that she thought about blocking Jinkx again but thought it would be too mean as Jinkx is the only queen to be blocked twice. Cutting to a confessional shot with Jinkx, she makes it clear that she is feeling very targeted with the plunger but is glad that she wasn't chosen again.
Things are awkward in the werkroom as the queens start sharing how many stars they have, with The Vivienne mentioning that in order for the queens that only have one star currently would need to win at least two more challenges in order to be one of the lucky four in the finale and with only four challenges left, Shea Couleé elegantly states that "I'm not a mathematician but it ain't adding up", it's clear that some of the queens are getting frustrated with lack of wins and watching the finale creep ever closer.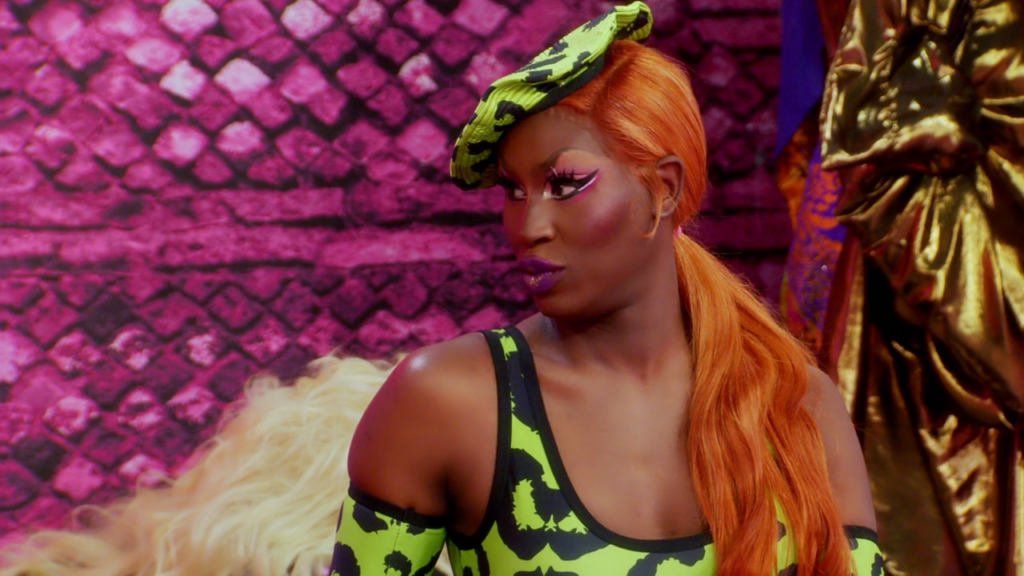 Asking Diva who she thought would be in the final four she had this to say: "It's clear that Jaida is going to be in the finale, alongside her I can see Jinkx as she's consistently adapted to all the challenges this season. As for the other two spots I think it's too early to put any other queens there, as this season has shown us—twists can change this season in an episode."
A new week brings a fresh new challenge and RuPaul announces, via questionable Santa themed puns, that this week is a Xmas themed challenge, where the dragsters will be starring in a soon-to-be new cult classic—'Santa's School for Girls'—a part Christmas, part horror, part mean girls inspired movie. Trinity, as the winner of last week's lip-sync, gets the honour of choosing the roles that the other queens will play. Repaying Vivienne's kindness, Trinity gives The Vivienne her first choice of character (Headmistress Nutmeg) and, still honouring her secret alliance with Monet, after making both Monet and Jinkx 'audition' for the role of Miss Toe, a zany 'cool' teacher, Trinity offers the role of Miss Toe to Monet instead of Jinkx.
I asked Diva what she thought of having another acting challenge, and she said: "In this cast, there are a lot of strong actors and people who excel well at characters—Trinity, Jinkx and The Vivienne are clear queens that come to mind that are going to excel in this challenge." When I asked her about it being Christmas themed she explained: "Was this season supposed to air at a different time of the year, but honestly it's a lot better than the Holi-slay special Ru released a few years back."
After assigning the roles to the queens, Trinity checks in with Jinkx, who got a smaller role as one of the nice girls "Joy", to see how she is feeling. Jinkx expresses that she's not bitter about not getting any of the roles that she wanted but is looking on the positive side and embracing the challenge of shining in a smaller role.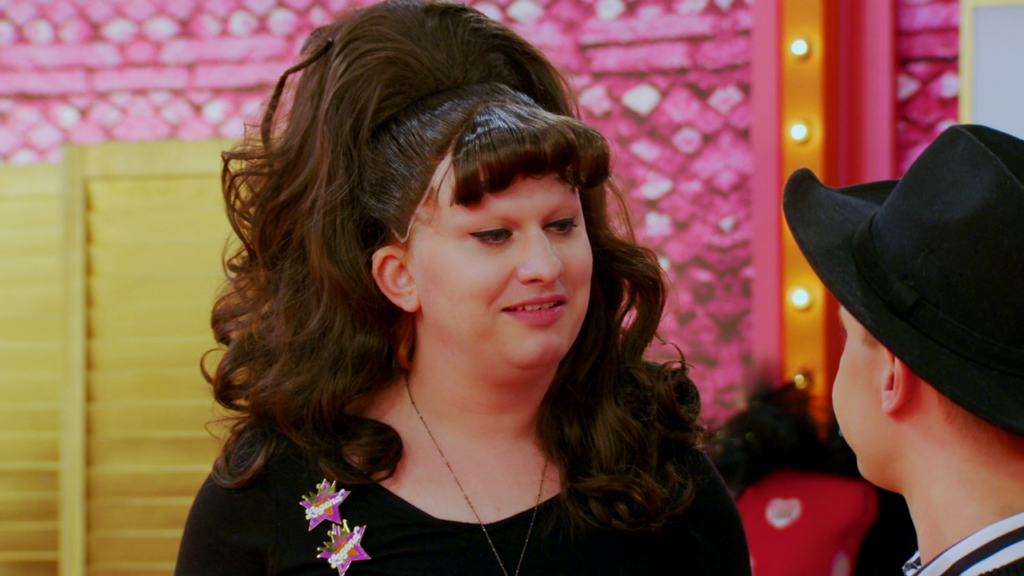 We are then whisked onto the set of Santa's School for Girls where Diva exclaims "They've definitely got budget this season! The size of the set is massive!". The special guest judge and co-director alongside Ru Paul this week is American Film Director Janicza Bravo, with Diva stating that "It's great they actually got a film director in for this challenge as having someone with her (Janicza's) level of skill is definitely beneficial for the queens". As the filming starts it's clear that The Vivienne is in her element and that's evidenced with Ru Paul uncontrollably laughing which throws The Vivienne off and makes her break character, no doubt a massive confidence boost for her.
As we progress through the rest of filming it's clear that all the queens are taking feedback given onboard and adjusting as needed, with queens and directors both showing that they are having fun and enjoying the challenge.
We return to the werkroom where the queens are getting ready for the runway. With The Vivienne being the only international queen, the American queens test her understanding about what a "pussy pop" is, The Vivienne never backing from a challenge demonstrates with a round of laughter ripping through the werkroom.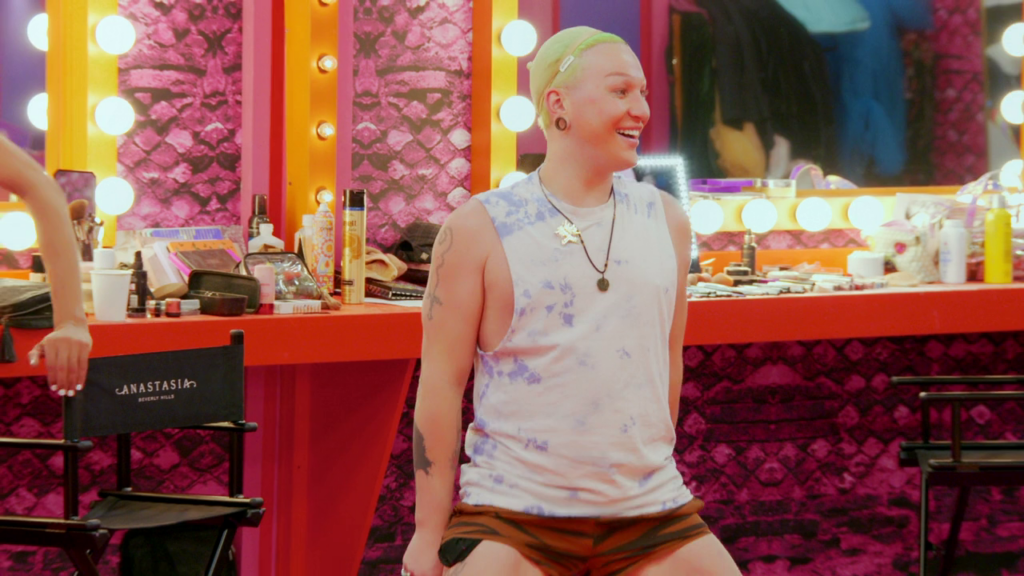 The queens, riding high from a successful filming session, are complimenting each other on their respective performances, with each feeling the other queens really shone in their roles. But we live in the real world and we all know good things cannot last and as expected Trinity reminds all the queens that there are a few queens who are yet to be blocked, obviously in an attempt to hamper the clear front-runner Jaida, who uses this moment of attention to make her case that with her having 3 stars, she's already guaranteed a spot in the finale—unfortunately for Jaida none of the other queens are buying this ploy to throw heat off of her as things can change in an instant on an All Stars season.
It's time for the runway and we are surprised with a theme of "Knitty Knitty Bang Bang"—a knitwear-themed runway. It's clear that the queens had grand plans for this runway. I asked Diva what they thought of the contestants' outfits this week and they said "Everyone absolutely brought it this week, with a theme like knitwear you expect to see a certain style but some of the queens really challenged that perception—The Vivienne had such a plain material but she made the outfit look so elegant, I really thought the knitting needles in the hair were such a great addition, I wouldn't be surprised to see this outfit worn on the red carpet. Another favourite was Jinkx homage to Old Hollywood, she took knitwear and made it feel so vintage yet captivating, however, my favourite look of the night was definitely Raja's—she took the theme of the runway threw it out the window made it so futuristic and so glam, it's amazing what Raja wears down the runway, she truly has a grasp on fashion". When asked who she would rank low this week Diva said "I really didn't like the direction that Trinity went this week, I liked the leopard accents but felt they drew away from the knitwear aspect, and then the lavender colour of their outfit made it feel boxy and like it was one piece.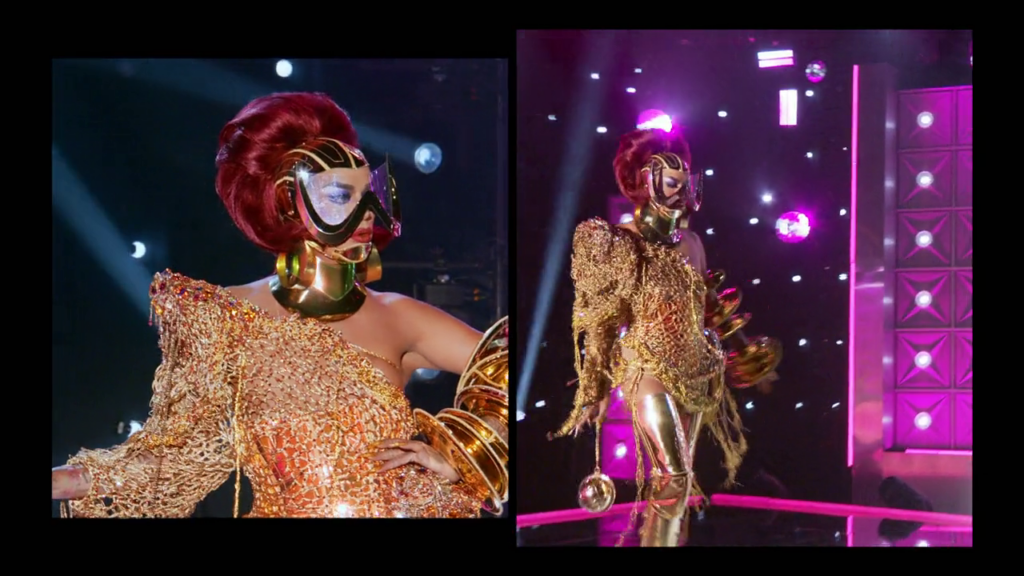 With all the queens down the runway we are treated to the premiere screening of Santa's School for Girls. We see Jinkx really turn her small role into something that's quite memorable, a shopaholic who's body is also inhabited by an otherworldly being (we've all got a friend like that right?). We also see some queens (notably Yvie, Monet and Shea) get out-shone by the others. The judges clearly loved everyone's performances, however extra praise was noticeably applied to The Vivienne, Raja and Jinkx.
After deliberating, the queens are welcomed, re-welcomed, then abruptly interrupted by what seems to be a malfunctioning Ru Paul with Michelle Visage jokingly telling the queens to hold on a second while she changes Ru's batteries and Raja suggesting the judges to put Ru Paul into a bowl of rice.
The Vivienne and Raja are announced the top two of the week, with Raja especially happy with the placing. It was not easy this week for the judges to pick the top two as everyone really excelled this week. This brings their Legendary Legends Star count up to two each for both queens, placing them with the likes of Trinity and just behind Jaida. I asked Diva what she thought of the top two, and she said, "I agree with Ru, but I truly could have seen the win going to anyone in the cast".
The top two lip-sync to "Super Freak" by Rick James, and Raja is declared the winner. I asked Diva if she was surprised that Raja won and she said: "No, it was clear that Raja was in her element and she was feeling it. Raja clearly loved the song, enjoyed performing the song and it was very apparent in her lipsync."
Finally given the power to block one of her fellow queens from winning another badge, and having the power go to her head, Raja eventually chooses …Jaida Essence Hall. Finally being "plunged" Jaida is clearly upset, but the other queens are celebrating, halting her ever-increasing incline. Diva had this to say about it: "It makes sense, who else would you block, Jaida has the most stars, though for drama sakes it would be great to see someone who has less stars blocked and completely ruling them out from the finale."
To wrap it all up I asked what challenge she'd like to see on this season and Diva said, "I want to see another comedy challenge, like a roast or people getting read—give me some hateful mean comedy, I love it when people talk sh*t, it's so fun".
Join back next week for a return to our normal broadcast of this fabulous season with another special guest!
---
Cover image by Tim Wilde, for more of their work you can visit tim-wilde.com.
Featured photos courtesy of Olivia Dreams and Diva.
RuPaul's Drag Race screencaps courtesy of torrents and screen capture technology.