With four more episodes until the season finale, RuPaul's Drag Race All Stars 7 is heating up. Every performer has their eyes on the crown that will see them titled the Queen Of All Queens. At this stage, there are some clear front runners, but knowing Drag Race there will be several more twists and turns in store, and so it's anyone's game to win! Joining me this week to discuss the seventh episode of this incredible season is none other than the phenomenal Willy Smackntush.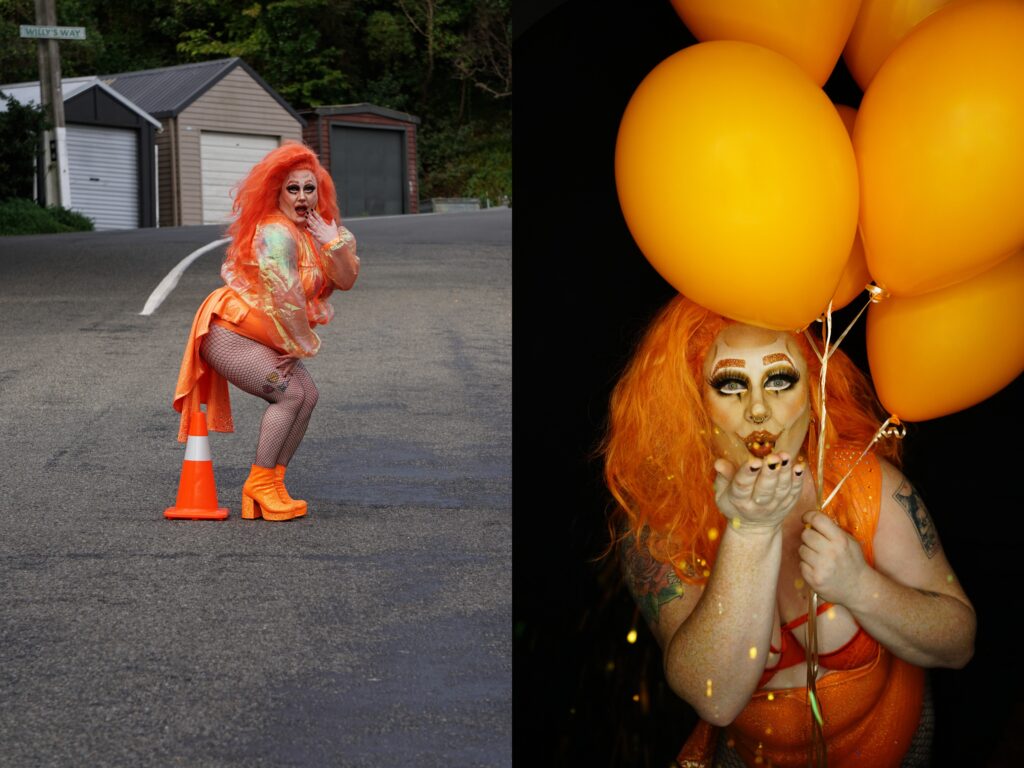 Willy SmacknTush is the host with the most glitter. He's more than a handful of Highlander—you don't deserve a spank you're getting a Smackntush! MX Capital Drag 2019, and drag and cabaret producer, he puts the art in Tartan. Make some noise for your King of Scots! Your Drag Daddy! Willy Smackntush!
To start I asked Willy what he thought of the show so far. "I know that it was rumoured that this season was gonna happen for a very long time. There's so many winners that the casting opportunities for this are so wide that it could have been anybody, but I think the cast is amazing. A lot of them were my favourites in their original seasons, so it's really hard picking who I'm backing because half the cast would be my favourite. So I don't have a favourite—that changes week to week. It's been really interesting."
I asked him what he thought of the Platinum Plunger twist and he had this to say: "It seems like they're scrambling for something to keep it new and fresh. I'm glad that nobody is being eliminated. I think that's something for an all winners season would seem disrespectful, if you go from being recognised as the Queen of Drag, and then being sent home first, it would be terrible. I'm glad they get to do everything every week, and we get to see the amount of time and money and energy that is put into a show like this. The plunger is weird, I don't know why the plunger is relevant, other than for blocking someone. A plunger literally unblocks a toilet or a drain. It's bizarre. I think it's a reasonably clever way of keeping things fresh."
The episode opens with the performers heading back to the werkroom to untuck. Yvie celebrates both of her recently acquired Legendary Legends Stars, and The Vivienne becomes 'The Karen', complaining about having been blocked last week from winning a star. Jinkx points out she's not the only person that has happened too, mentioning herself and Trinity the Tuck. Things seem tense in the werkroom, but the camaraderie that has shined all season long is still present.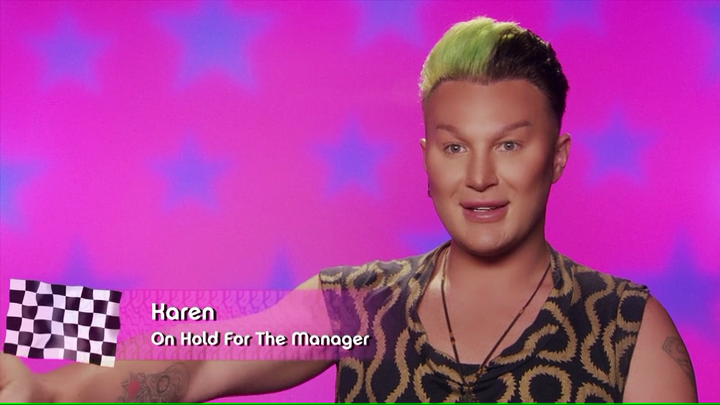 The next day before RuPaul enters the werkroom to give the queens this week's maxi challenge, Monét, Shea, and Trinity commiserate about not having won a challenge in a long time. Both Shea and Monét won the first episode, and have both come close to snagging a second win since, but neither has quite managed it. With a cast overflowing with talent it must be painful to make it so close to winning challenges and just missing out.
RuPaul announces this week is a sewing challenge, wherein the performers must make a look inspired by outfits RuPaul has worn in the past. The Vivienne gets to choose hers first as the winner of last week's lip-sync and then gets to choose who will pick next. She chooses Ru's Season 7 Despy Awards look. The only performer we see really pining after a specific look is Raja, who really wants RuPaul's Supermodel of the World look. She doesn't get to choose it, but we find out later she still gets one of her top three choices, ultimately working with Ru's Season 7 Promo look.
I asked Willy if he likes sewing challenges, and he had this to say: "I honestly, personally, I get trauma flashbacks to my time on drag reality television. The very first challenge we had to do on House of Drag Season 2 was a sewing challenge, and I can't sew. I feel for the queens that don't, although, no. At this stage you have to be able to do it. If you have gone through an entire season and won—some of them this is their third time on the show—if you can't sew by now you deserve to be shit."
"I do enjoy seeing what people can make in a day. It's something that in real life drag, you don't have to be able to do all these skills. If you can't sew there are other ways to dress yourself, so it's interesting seeing someone of the talents that might not translate to day-to-day, real-life drag, be shown. It's epic seeing some of the creations that come up." I then asked Willy what he thought of The Vivienne having blocked Jinkx for a sewing challenge, her supposed one weakness. "That is hilarious. I can't believe that it happened by accident, without it being premeditated."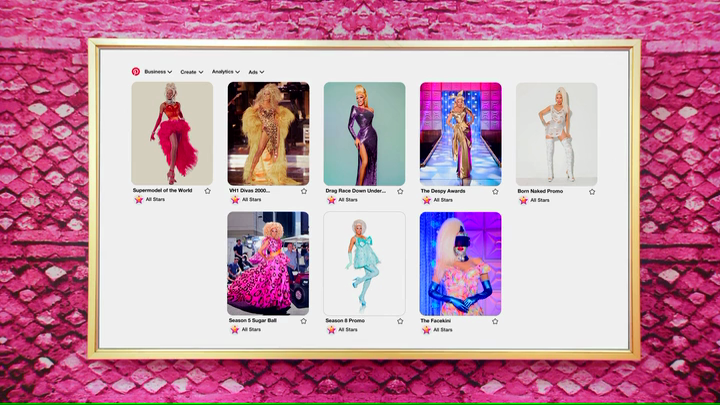 Jinkx Monsoon gets Ru's Drag Race Down Under Season 1 Promo look, Monét X Change gets Ru's Season 10 Facekini look, Shea Couleé gets Ru's Season 5 Sugar Ball look, Yvie Oddly nabs the Supermodel of the World look, Jaida Essence Hall gets Ru's Tribute to Diana Ross look, and Trinity the Tuck gets Ru's Season 8 Promo look. When asked which look he would have chosen, Willy said this: "It's a lot of pressure to make Ru happy, and to show to the world you're good at what you do. I think the one Shea got. Pink and leopard print are both things that I love."
They are all given fabric and materials that relate to the original looks and are tasked with creating something uniquely their own with said materials. Most of the queens have a good idea of what to do, but we see Shea struggle with trying to do the most in order to win another Legendary Legends Star. Ultimately she bites off more than she can chew by deciding to paint her fabric to represent Ru's original look, alongside ruffles for volume, and her Season 9 sister Trinity the Tuck ends up helping her out to finish her outfit. Trinity also helps Monét finish off her Leigh Bowery-inspired look, and creates one of the best looks of the episode for herself. I asked Willy what he thought of Trinity's generosity in this episode. "I think that's a very good strategy to be helping everybody else, it's one of the ways to make connections with people in order to not be blocked, which she's open and honest about. Very clever."
Raja makes … something out of her materials, trusting her process and creating something that everyone else on the show ends up loving, but I didn't think so. And neither did Willy. When I asked him about it, he had some very valid points. "I think because Raja is such a fashion queen, and she looks like a model, she walks like a model … If that outfit had been put on somebody else I don't think it would have been received the same way. She really knows how to style an outfit and how to sell it, and I think that is almost as important as the actual content that you've made. Because if you can get on stage and make everybody believe that you think that you are wearing the most awesome outfit ever, then that's half the challenge. I think in particular, if you had put that on a fat queen—which there aren't any at all on this show—I think that would also be a different conversation. I think a lot of the queens, and in this episode, in particular, Raja, it doesn't matter what they're wearing, it's called fashion. I think that translates to real-life drag also, that if you are very tall and slim and beautiful, it doesn't matter what you wear, it's going to be considered amazing. "
Yvie makes some lovely pants, and The Vivienne makes a dress that looks near identical to the one Ru originally wore. Jinkx surprisingly doesn't struggle that much (well, outside of gluing fabric to an unstretched undergarment and having a minor meltdown) and manages to make an outfit that's a vast improvement from her look several episodes ago. Jaida, unsurprisingly, makes one of the best looks of the season this episode, channelling Diana Ross and all things golden and disco. She looks heavenly on the runway, and you can tell the judges are eating it up.
I asked Willy who his favourite was. "Trinity's was just spectacular. I'm just in awe of what she can do with her own hands. I also really loved Shea's. Jaida's was great and beautiful and looked gorgeous, but the amount of work that went into Trinity's … none of the other creations looked like there was as much work had gone into them. I did love what Jaida did with the hip cutouts, I thought that was very cool, and a great way of referencing the original outfit but reversing it.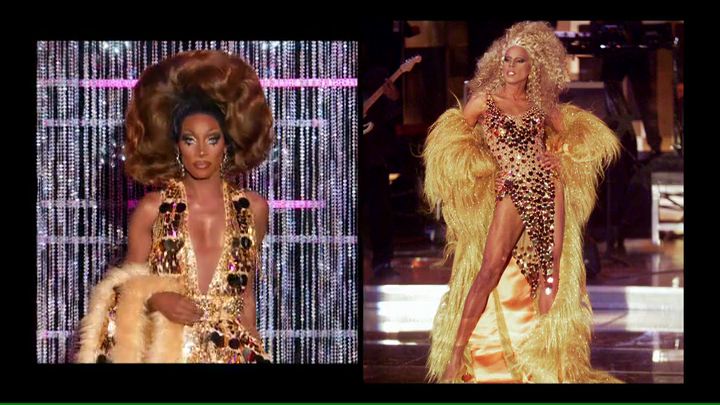 Trinity and Jaida are declared the top two of the week, once again both winning the sewing challenge. And even though everyone excelled this week, I think they were the clear top two. This brings their Legendary Legends Star counts up to two and three respectively, placing Jaida in the lead of the competition. I asked Willy if he would have changed the top two at all, and he said, "I loved Jaida's, I think it was great, but I would have put Shea in the top over her."
I also think it prudent to mention that with her win in this episode, Trinity the Tuck is now the first contestant in all of Drag Race history to reach the milestone of 10 challenge wins across her three seasons of competing. I asked Willy his thoughts on this milestone and found we agreed completely. "That's amazing! I wouldn't have picked that, but I guess this is her third season competing, and that just adds up! Three, maybe four in one season. That's really impressive. Coming into this season, I knew Trinity was amazing, but her personality and the way she comes across, I wasn't warmed to her. I wasn't like yes, not only are you great at drag but you seem really cool, but this season she's redeeming herself for me that way, in that you're getting to see a lot more of her personality and her personal side. It's not just sound bites and drama for TV, it's more honest."
The top two lip-sync to "I Want Love" by Jessie J, and Trinity is declared the winner. Willy had this to say about the lip-sync: "I remember watching it and thinking it was very close, but I thought Jaida had it, so that was a surprise to me, but I think it would not have created as much drama with who gets to be blocked next week."
Given the power to block one of her fellow queens from winning another badge she chooses …Yvie Oddly. As Tatianna would say, "Choices." Willy had this to say about it: "I think it's a bit random. Up until last week, with Yvie getting in the top two. I thought she wasn't going to make it to the top ranks, I thought she was just going to stay in the bottom. Yvie was my favourite of her season, I adored her, I loved watching her and supporting her, but compared to the others in this season, and what is popular with drag now, and what is expected of drag now, I would not have picked her to be in the top half going forward in the finale. I think blocking her is a bit random." I asked him if he thought it was a strategic thought, and he agreed it might be. "Because they're halfway through, it's going to get down to the wire and whose personal vendettas against each other are going to come up; you can see it with Jinkx and The Vivienne already, and it's just going to be tit for tat. I think the same with giving Yvie the Legendary Legends Star last week, it's trying to keep the peace and not piss anybody off." And when I asked Willy who he would have blocked instead, he said, "That's tricky. I think Shea has got to win another challenge soon, she's too good at everything to stay where she is. Although it's horrible, having to block someone is awful."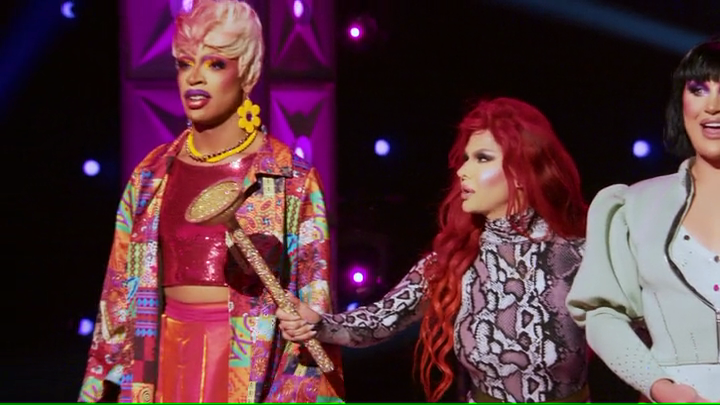 Willy then elegantly elaborated more on his thoughts about the blocking twist this season: "By the time they get to the end, what I would love to see with any season, is that the people who have proven themselves worthy get to be there, and when RuPaul or producers of the TV show are choosing who gets to go home in order to make good TV you aren't always getting people that are the best or the most deserving in the finale, and I think this time it's almost the same. It's different because it's not producers deciding what's good TV, but it's each other deciding who they're friends with or who they don't want to piss off. So you might get to the end and it won't be who has done the best. You could win the majority of the challenges, but if you get blocked every week you're not going to end up there."
When asked what more he'd like to see this season, Willy mentioned Harlie Lux's idea from two episodes prior of the queen's getting the ability to steal another queen's star. He then said, "I think there will definitely be another twist. I think handing out another star was a good one, but all that really did was level the playing field back to how it was. But getting to steal somebody's could also do that. If you're already in the front and you get to steal, that could create differences."
And to finish off when I asked what challenge he'd like to see, Willy said, "I really love the makeover challenges. I love when they bring people in who have great stories to tell who might not otherwise get to be on a show like this for whatever reason. I also really enjoyed in Season 13 where they got to put each other in drag, that's so fun! I think at this level it would be hilarious to see Jinkx do Shea, and Shea have to do Yvie. I think that would be really interesting. But again because they're all winners there's this level of respect from each other, and from the judges towards all of the contestants that you don't see on all the other seasons, like everybody knows that they are winners, they have a certain amount of respect from everybody around them, that I don't know if they'd throw something like that at them where they could make a fool of themselves. That doesn't seem to be what they're going for this season at all. But it's harder if you've brought all your drag to your own proportions as well, like no one is going to be able to wear Trinity's stuff. It's not going to work."
Join us next week where we'll be reviewing the eighth episode of this fabulous season with another special guest!
---
You can follow Willy on Instagram instagram.com/willysmackntush.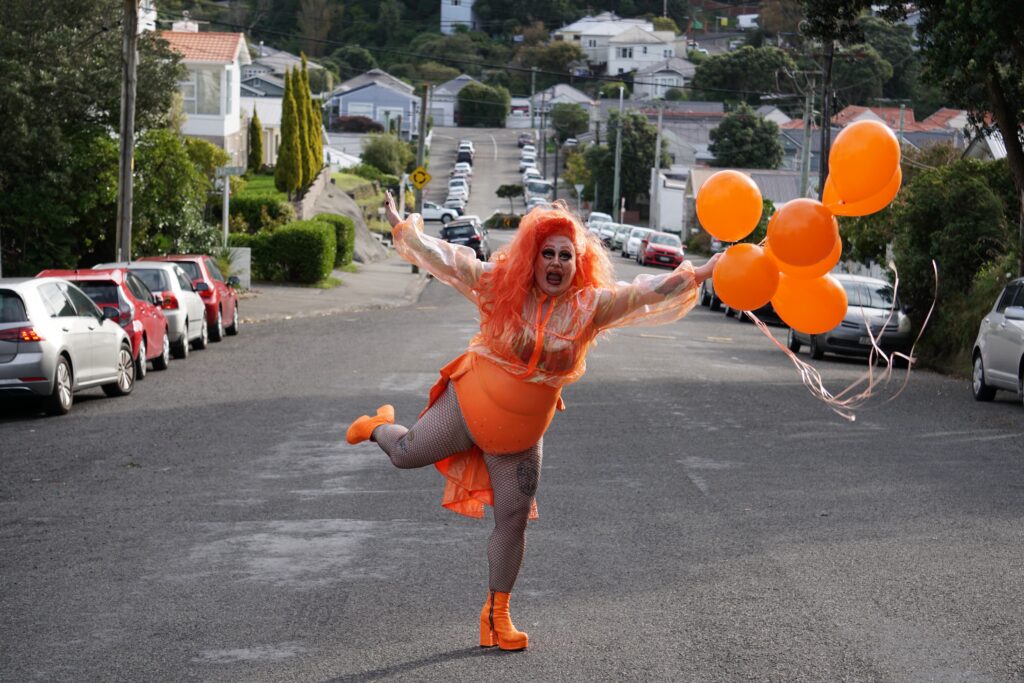 ---
If you are a Drag Performer from, or living, in New Zealand and would like to be interviewed as a part of this review series please get in touch by sending an email to @haroldjnp@gmail.com.
---
Cover image by Tim Wilde, for more of their work you can visit tim-wilde.com.
Featured photos by Macy Banbury courtesy of Willy Smackntush.
RuPaul's Drag Race screencaps courtesy of torrents and screen capture technology.