Do you want to see Tove Lo with a cake on her head for no reason? Do you want to hear Jaida Essence Hall rapping about poop and love? Well, then this episode of RuPaul's Drag Race All Stars 7 is for you! We are halfway through the biggest season of Drag Race ever, and joining me to discuss it all is the lovely and super talented Olivia Dreams!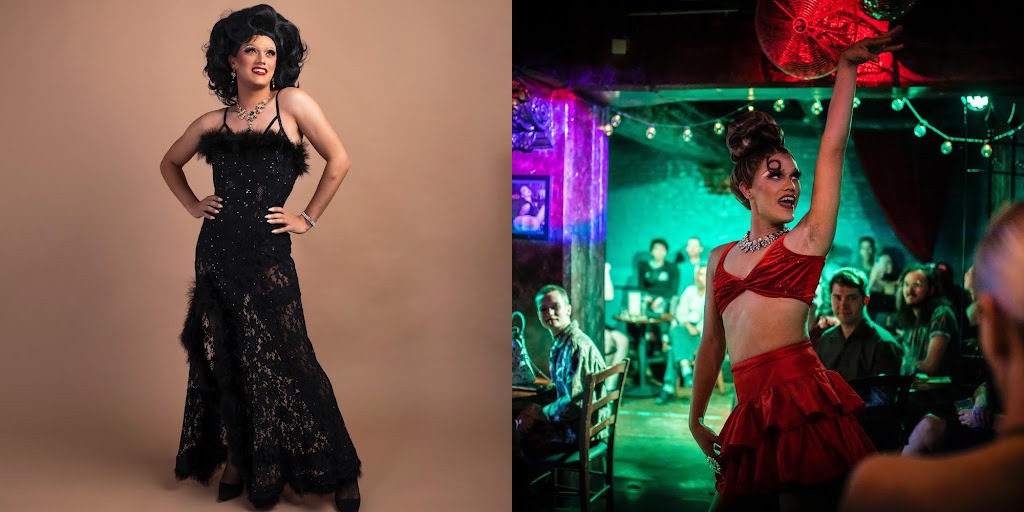 Ready or not, here she comes. The Takatāpui titan from Te Tai Tokerau makes all of your dreams come true. She lives in your head rent-free, she will make you laugh and she will probably make you cry. Catch up on her latest antics and drop her a cheeky follow on her Instagram instagram.com/oliviadreamsnz.
To start I asked Oliva what she thought of the season so far. "I love RuPaul's Best Friend Race. I'm really enjoying the fact there's no pressure on the contestants. The big thing for Drag Race with me … obviously there's a lot of time and effort that goes into drag, and it's great to see the contestants being able to show their unique style of drag. What I think this season's been really good at is, y'know, while everyone's had ups and downs, they're still showcasing themselves and their true authenticity."
I then asked her what she thinks of this cast. "I love the cast, like honestly when I saw the cast I was like 'Oh my god, yes!' I've always been a fan of Shea Couleé. I know we've just seen her, but I'm really happy to see her again. I really love all of them, I think they all bring their own unique flair to drag, and it's great to be able to see them all again, and just having fun. Even The Vivienne, with her being the only international queen, it would be quite difficult for her, but she's really taken a stand and shown the American queens that she's not to be trifled with. She's been absolutely killing it in these last few episodes, especially the most recent episode. I think that she is on this incline, and personally, I think the beef between her and Jinkx is very valid. They are both very, very talented queens, and so they obviously see each other as threats."
"I think The Vivienne came into the competition doubting herself because she is the only international queen. She felt the pressure like, 'Oh my god, I have to represent the UK.' But I think once she got over that she just naturally—because she's very charismatic, she knows where her strengths are, and she just tackles challenges head-on. It's great to see her finally flowering and taking a lead in the competition."
The episode starts as always, with the queens re-entering the werkroom from the main stage. The Vivienne comes in toting her Platinum Plunger, given to her by Jinkx, and even though her face doesn't betray it, she is pissed. The performers de-drag, and the episode proper begins.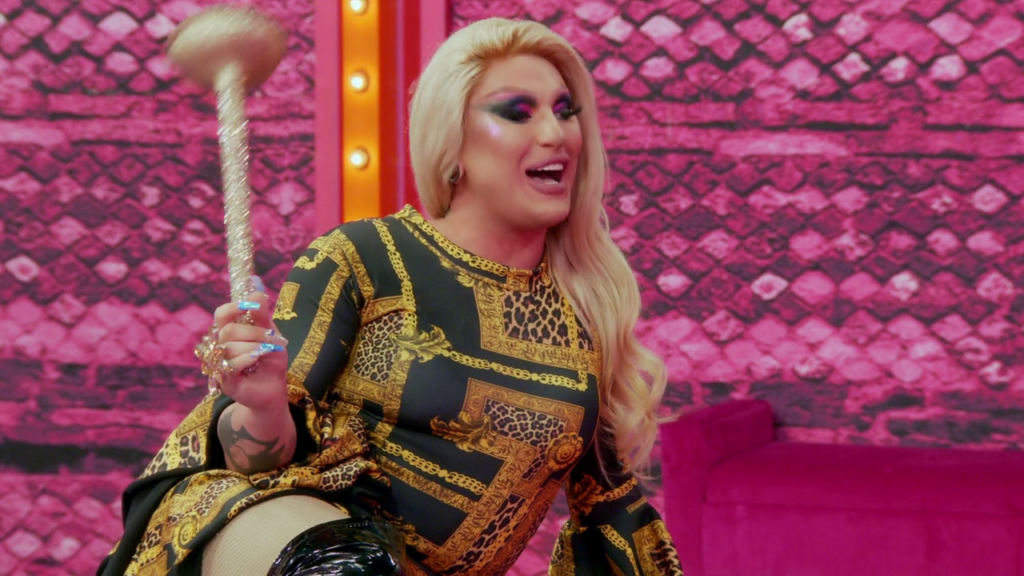 The next day we see the performers gathered in the werkroom, and we find out who the top two from the previous week have chosen to receive their extra Legendary Legends Stars. Raja, the loser of the lip sync, chooses Yvie for hers, bringing her total stars to one. Jinkx chooses Jaida, who joins her on the two-star tier.
Ru then tells the performers that this week their challenge is to write lyrics and perform in two Y2K-themed girl groups. The four queens standing to Ru's left—Raja, Trinity, Monét, and Shea decide they'll be in a group together, which means the other four will be in the other. The queens gather on the couches to listen to the songs, and The Vivienne makes it clear she's not happy with how the groups have been chosen, but when Jinkx suggests the performers all gather at different couches for each of the two song options … nothing changes. Olivia had this to say about it: "I loved the little shady bit between The Vivienne, and M.S.T.R. I get where The Vivienne is coming from, it's like the popular kids in high school, 'Oh yeah we'll be in the group. And, y'know, then you're left with The Other Girls.' But I love how The Other Girls leant into it. It was really clear they were having fun."
The first group, performing 'Titanic', call themselves M.S.T.R., a play on the first initials of each of their names, and decide on a storyline that they used to be called M.S.T.R.Y. and that Yvie left the group so they changed their name. The other group decide to riff off that, calling themselves The Other Girls, a girl group made of girls who have left other girl groups. They will be performing a song called '2getha 4eva'. M.S.T.R. leans heavily into the Y2K aesthetic, while The Other Girls go for a more comedic approach. I asked Olivia what she thought of this challenge, and she had this to say, "I love it when they get to write lyrics to a song, they really get to showcase who they are, what they stand for, and just have fun. I enjoyed performances from M.S.T.R. but The Other Girls brought fun to it. Yvie and The Vivienne were really on their game this week."
I asked Oliva who her favourite group and individual performers were, and it's clear she's excited about this challenge. She said that if she was a competitor in this episode, she "would have chosen to be with the other girls. If I was in M.S.T.R. and I heard what The Other Girls were trying to do I would have been like 'Oh does anyone want to swap?' They took an obstacle and turned it into a strength." And then when I asked more about her thoughts on M.S.T.R. she said, "To be fair, when the camera doesn't focus on Raja for most of the performance … it's quite clear the edits were being made around where Raja didn't quite hit the mark. Shea was the clear frontrunner of that team. She just knows how to command the stage. It's very evident in her drag that she's a perfectionist."
It is worth noting that no one did badly this week, again. I would hate to be judging this competition because it does seem to come down to splitting hairs when deciding who the top two are. The queens are getting heaped with praise, even those who may be fading into the background a bit. Olivia mentions she worries that Monét has "faded into the background a bit after such a strong start." But the joy of this season, as Jaida keeps reminding us, is that no one goes home! I'm sure we'll see Monét snatching another Legendary Legends Star soon.
The runway theme this week is 'Night of 1,000 Dolly Partons', and we saw the queens walk out in an array of gorgeous Dolly Parton inspired outfits. Most were quintessential Dolly, but some took some leniency with the theme, such as Shea and Yvie. Sometimes that pays off, but when it misses it misses big. I asked Olivia what she thought of the performers' outfits this episode and she agreed with me. We started with Yvie: "In her voice over, she said it wasn't her schtick, but she still made it uniquely hers." However, Olivia, "didn't think Yvie's Dolly Parton was strong. I definitely think there were other queens who did better on the runway, but didn't do as good in the girl group challenge. I think Jaida was really high, but her Dolly Parton let her down. Even Raja and Trinity embodied more of that Dolly look. I was a little disappointed when Shea walked out. I get what she was going for, but it didn't sit right with me." But ultimately we agreed that The Vivienne's rendition of the Queen of Country was the best of the night, with Olivia saying it felt "the most natural."
After their runaway presentation RuPaul announces that The Vivienne and Yvie Oddly are the top two queens of the week. As The Vivienne was blocked last week she receives no star, but Yvie nabs her second star in the same episode, joining Jaida and Jinkx in the two stars club. I asked Olivia who she thought should have been in the top this week, and she said, "Definitely The Vivienne, but it could have been any other queen for me."
The top two lip sync to 'Why'd You Come In Here Lookin Like That' by Dolly Parton, and The Vivienne is declared the winner. Now, I understand having a Dolly song to tie in with the Dolly Parton runway, but when you have Tove Lo as a guest judge it seems a shame to not use 'Disco Tits', or 'Cool Girl', or 'Really Don't Like U'. Could Dolly not have waited one more episode? Or perhaps for a Dolly Parton Rusical? When I asked Oliva what she thought of the lip-sync she said, "…Yeah. It was evident because the runway was Night of 1,000 Dolly Partons that it was going to be a Dolly song, but just what Dolly song are we going to do? It was clear as soon as it started that it was The Vivienne's lip sync. It just was not Yvie's forte." Perhaps if it were a Tove Lo song the lip sync would have a different winner.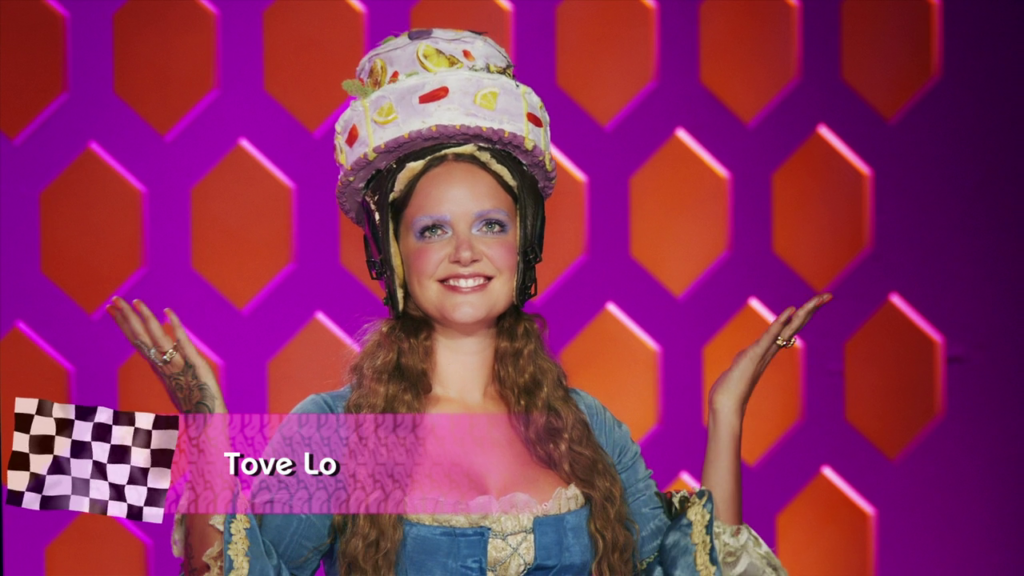 "At the end of the day, Drag Race is a game. This is an opportunity to knee cap your opponents. It's a compliment in a way to receive the Platinum Plunger, because the person who's given it to you sees you as a threat. I worry that it's just going to pass between [Jinkx and The Vivienne]. It will just fall into the cycle of two or three queens receiving it." If [The Vivienne had] gotten a star, she'd get up to the level that would worry the other competitors, and I think it'd be stupid for people to sleep on Jinkx Monsoon."
Being $10,000 richer, The Vivienne decides to block Jinkx, who she clearly views as her strongest competition. Jinkx takes it in her stride, but if only she knew what the next challenge was (it's sewing, her one weakness, supposedly), I'm sure she'd be laughing hysterically.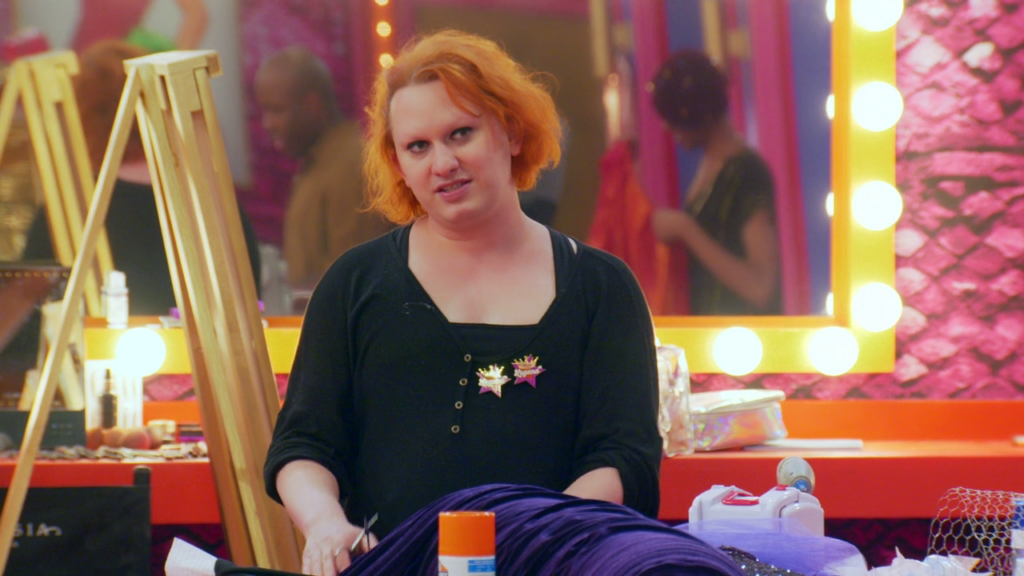 When I asked Oliva who she thought the front runners were she had this to say. "Well Jinkx, and I know Jinkx gave her second star to Jaida which puts her on equal par, and not being shady or anything—Jaida is great, but she has faded into the background a bit. But frontrunners for me are Jinkx, The Vivienne, and Yvie. At this stage I think Yvie's starting to have this incline as well, and the judges are starting to really get into what she is serving. If I were to say who would be in the final top four, my bet would be The Vivienne, Jinkx, Trinity as well."
"I think Trinity just really knows drag, really understand drag, and I know the judges are just really enjoying every runway she is bringing, and she's been really good with most of the challenges, and based on a sneak peek of next episode, it's a design challenge so it'll be exciting to see what she brings out as well. And the fourth spot is just a grey area, I'm not too sure who will be there."
"I think that's the thing with this All Stars season—they are all winners in their own right, but when you get them all together you get to see who … for lack of a better word, who does drag better. Probably mincing my words a bit, but it's taken Yvie this long to stand out, and I know a lot of people really love Raja but, I think she's … not struggling, but y'know drag has changed a lot since she did Drag Race. The lip-sync she did with Jinkx … it wasn't her style of music, she wasn't comfortable. If it was a different song, something that she was used to, I imagine we would have gotten a different lip sync. It's interesting to see when it's all winners, who comes out on top."
To close I asked Olivia what else she'd like to see this season. With a laugh she said, "Well they're not going to do one of those sporty challenges for health and safety reasons. I really like improv challenges, so another acting challenge would be great. A roast! I think the only person they haven't roasted is Carson Kressly, unless they bring in someone else … Nicole Byer? That would be fun."
We are now officially halfway through the season, and current track records aside it is still anyone's game! Join us next week where we'll be reviewing episode seven with another fabulous guest!
---
You can follow Olivia Dreams on Instagram instagram.com/oliviadreamsnz.
---
If you are a Drag Performer from, or living, in New Zealand and would like to be interviewed as a part of this review series please get in touch by sending an email to @haroldjnp@gmail.com.
---