Nagology: an exercise in mattering was published by 5ever books in March 2022.
This book is a culmination of a collaborative performance art piece that happened at The Performance Arcade 2021. It contains all traces of the event they could gather, including over 40 contributions from the public, ranging from hand drawings, on-site typewritten notes, short stories and graphic art, to poetry and other wonderful works.
The book opens: "5ever x NAG is a low-fi hi-brow diamond cut book klin purple sheen. It makes the book the object but you have to make the book."
"NAG is a self-powered artist studio built entirely out of found and recycled parts. Artists are strapped into it and must pedal to generate the electricity they require to work; the moment they stop, everything stops."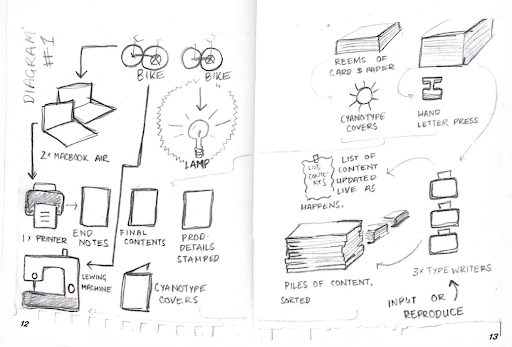 "5ever books were invited to do a 7 hour micro-residency in the NAG studio, and sought to create a collaborative pop up book factory." With no editing, submission guidelines, no rules or bounds, all the artists asked of people was their thoughts however they wanted to express them. "Energy inevitably transformed matter towards a book object state." The title and the contents of the book explore exactly what they say they do. What does the process of existing look like? What matters to us and how do we bring it to life? What do we have to say, and how can every aspect of how people engage in this work bring something new to life?
From karakia to confessionals and album tracklists—this book has everything you want and nothing you'd expect. It feels both organic and intentional, telling many stories at once that also fit into the wider creation narrative of the book itself.
Let yourself be surprised and taken for a ride every time you open its pages. A full feast for your eyes, mind and soul, dessert included.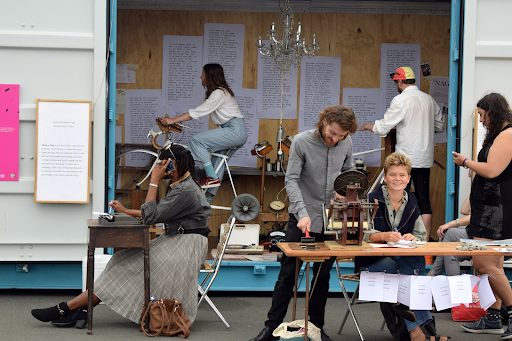 Ti responds to the contents of the book and its launch below. 
---
There is nothing that fills my heart like a gathering of creatives, celebrating (with wine and kai and song and laughter and hugs—bonus) the birth of a collaborated piece of art. 
Last Thursday I popped down to the fabled Trades Hall, and there, piled on shelves amongst zines and previous publishings, was 5ever books's Nagology: an exercise in mattering, a collated book that has become a staple in my always-with-me tote bag. (Sidenote ~ my favourite way to consume Nagology is in morsels, opening the book splat on any page and devouring, say, chapter 115 and then maybe chapter 72 after if I'm still hungry.)
Nagology's book launch gave faces to the names, breath to the poetry, and stories behind the making of such a special book—a book I will forever hold close to my heart. 
From sweaty bicycling for electricity and passers-by who took their moments to tip-tap their thoughts and notes on the typewriter, to the big-smiling crew of 5ever books pouring their soul into this creation, this book launch revealed the blooming of community. 
It is a powerful thing to give a platform for people to have their voices and art shared and published, so a massive Thank You (!) to 5ever books for pushing the boundaries on how you can create a book and for gifting this tasty time-capsule of Te Whanganui a Tara's bountiful imaginative community. 
The night was precious, to say the least, as I nibbled pickles and sipped box wine, giggled with new creative faces (planning more collaborative mischief to come), heard some of my favourite chapters read aloud and swayed to song and smiles. 
There is nothing that fills my heart like the showcasing of creativity with such tremendous love.
---
Nagology can be purchased now for $35 + postage via Nice Assets or Strange Goods, or by emailing 5everbooks@gmail.com .You can follow 5ever books's future activities at instagram.com/5everbooks/.
---
Featured images courtesy of author.