AHHHHHHHHHHHHHHHHHHH!!!!
Sorry, Chick Habit just reminded me how good it feels to scream about the complexity of being a Gen Z child of Asian immigrants.
On a Tuesday night, a group of calm, post-long weekend showgoers shuffle into Basement Theatre. Upon arrival, we're welcomed with ear-piercing music on the overheads. Resembling an atmosphere closer to a rave, the usual quiet chit-chat is replaced with yelling into each other's ears. Oh yes, this is going to be a unique experience.
It's time to enter the loud, colourful, chaotic world of Chick Habit.
Chick Habit is the latest play from Nuanzhi Zheng 郑暖之 following her success with 2021's Yang/Young/杨 (co-written with Sherry Zhang). The story is a continuation of a zine created whilst Zheng studied at Elam School of Fine Arts. It follows Olivia, a young woman seeking revenge on old friends who have found fame as a whisper-pop duo by stealing the songs Olivia wrote during their high school punk band days. As if things couldn't get worse, Olivia's also being haunted by the ghost of her dead mother.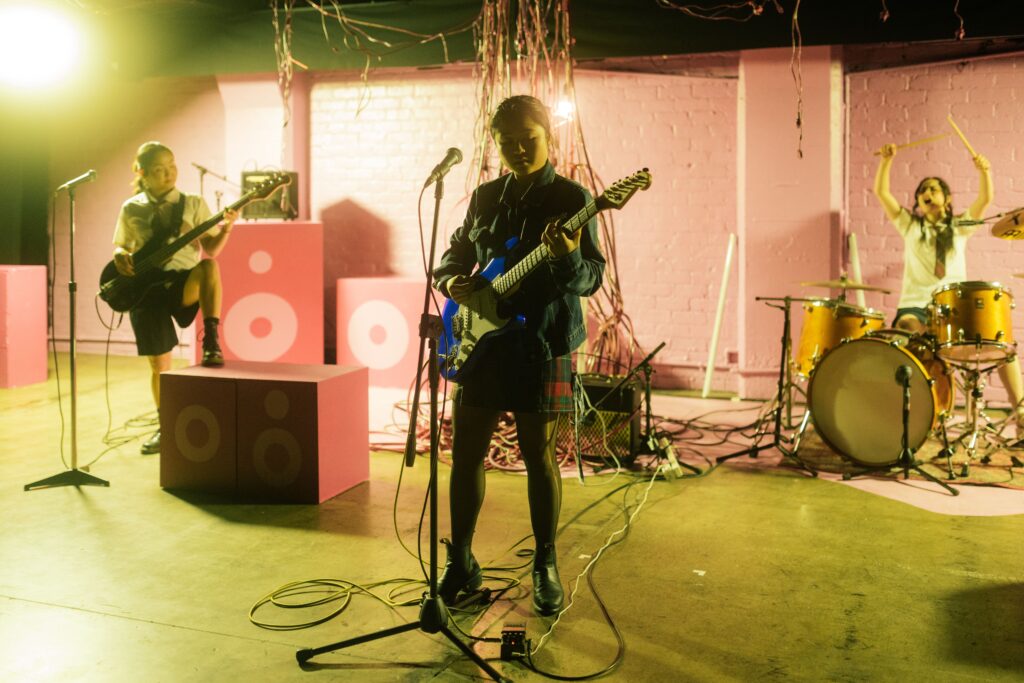 Across the quick one-hour run, we spend most of our time with Olivia and her two high school friends, Xanthe and Yolanda. This trio goes from being tight-knit teens to fractured young adults, all thanks to the betrayal of Olivia at the hands of her friends. This combined baggage of the characters brings plenty of joyous entertainment. Think explosive arguments, painfully awkward interactions and even unrequited love. Yet, Zheng pushes it further to present a murky nuanced friendship that will be a gut punch to anyone in their twenties. At an age characterised by uncertainty and failure, navigating yourself is tough enough, so trying to figure out your friendships can feel near-impossible. Chick Habit perfectly captures these difficulties.
While Zheng does a great job of laying the groundwork, it's the three main actors who take these characters to the next level. Louise Jiang's fuming Olivia is pitch-perfect. You feel the desperation and heartache. Nomuna Amarbat's Yolanda is played with so much cold-hearted charm that you'll feel like a devoted whisper-pop stan when she takes her final bow. Shervonne Grierson's Xanthe follows in the footsteps of her Losing Face character (see my review here), sincere in every way and hilarious in every moment.
"At an age characterised by uncertainty and failure, navigating yourself is tough enough, so trying to figure out your friendships can feel near-impossible. Chick Habit perfectly captures these difficulties."
Speaking of humour, let's talk about the laughs that Zheng imbues in this work. From the clever mocking of today's social media-obsessed culture to the inclusion of over-the-top side characters (Celine Dam's delivery will have you belly-laughing far past the punchline), there is so much fun to be had in this show. It's only strengthened by the fact that it's constantly in service to the story rather than a detracting gag. A whisper-pop duo with rabid fans feels so innately bizarre that Zheng simply leans into it all and lets the jokes land where they naturally would.
Beyond all the lively antics, there's a persistent melancholic undertone. Olivia's dead mother, Li, appears as a ghost, always following her around and interjecting with her disapproval. As a mum, Li was incredibly hard on Olivia causing a vicious hatred that makes the angsty teen kind look friendly. This hatred is a result of a multitude of misunderstandings—never seeing eye to eye on how to show love, how to express yourself or ultimately, how to live your life.
This relationship is the sneaky core of the story. It gives an unexpected weight to everything as it creates a much bigger and more painful layer for Olivia to navigate in her adulthood. Plus, it's all wrapped up in a frightening yet touching performance from Jo Lo, to really stop you in your tracks, causing you to investigate your own relationship with your mum.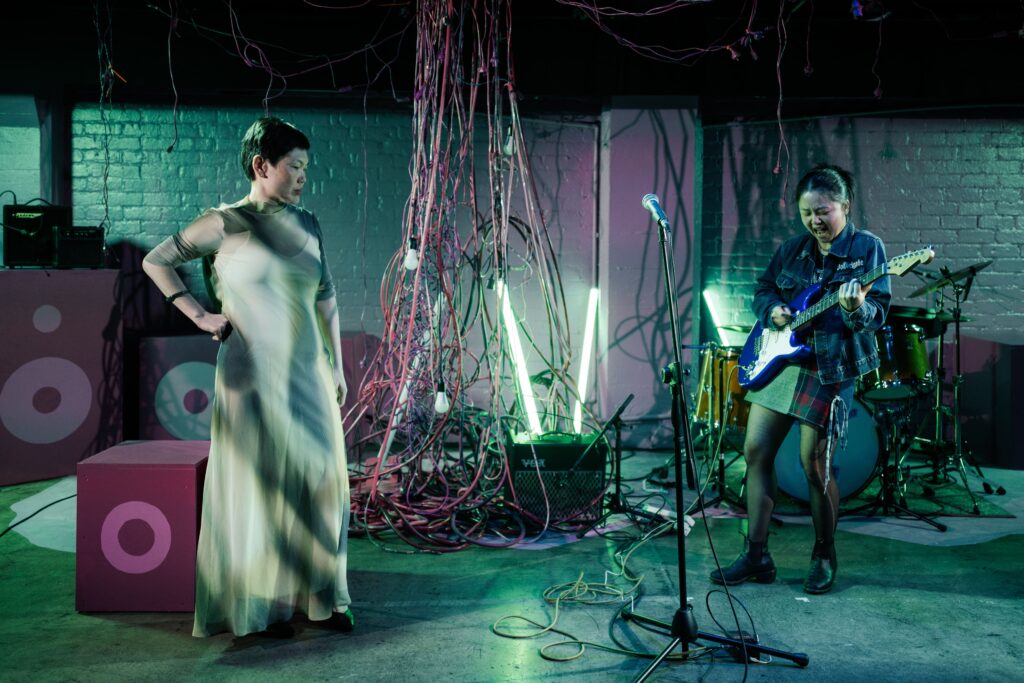 Now, we must mention the live music. With a story about a punk band turned whisper-pop duo, you'd expect a bit of music. The creative team delivers this and then some! The three leads sing and jam out on drums, bass and guitar throughout the runtime. In one flashback scene, we see the band discover their sound. It's a moment that makes your neck hairs stick up and has you questioning why every show doesn't have a live musical component.
The music hits so well that, like me, you'll be asking when Yolanda and Xanthe's whisper-pop banger will be hitting Spotify! Sound designer Karen Hu deserves props for crafting the tunes throughout the show.
Enveloping this beautiful story and epic sounds is an equally appealing vibrant production design. The stage is covered in bubblegum pink with a giant tangle of cords in the centre.
Minsoh Choi's set design feels like a mix of an underground Tokyo club and a colourful 2D animation, perfectly capturing the contradictions of this coming-of-age story. With an equally striking lighting design by Jennifer Lal, we're easily transported into the angsty world of teen punk band sessions and ethereal whisper-pop concerts.
While there's so much to love across this play, its framing within a Gen Z context is possibly the best thing about it. As young writers continue to enter major theatrical spaces in Auckland, we're seeing exciting new stories about how Gen Z uniquely reckons with their identity.
Zheng offers up the notion that this reckoning is all about our inherent contradictions. We are talented musicians and messy kids. We are cool independent young people and daughters who miss their mums. We are everything and nothing. To exist in this way is complicated to say the least and Chick Habit dives head first into it all. It pokes fun at the triviality of being Gen Z whilst pushing us to look closer to see how easy it is to be torn apart when you're made of puzzle pieces that don't quite fit together right.
This sticky identity only gets trickier when you add being a child of Asian immigrants into the mix. The duty to your parents' sacrifices versus a desire to carve your own path is where we find Olivia throughout the play. She feels torn and as if she's making the wrong decision no matter what she does. It's easy to empathise with Olivia even when she messes up because many of us have, at some point, been in her shoes.
All of this is to say that it's tough to be a Gen Z child of Asian immigrants. There's no two ways about it. Yet, being able to see it reflected on stage in all its chaotic glory does make things feel a bit easier.
"Chick Habit defies all odds by simultaneously being a roaring live concert experience and an introspective play about friendship and grief."
Chick Habit defies all odds by simultaneously being a roaring live concert experience and an introspective play about friendship and grief. It presents messy twenty-somethings trying to figure life out and cracks open the generational clashes we have with our parents. Director Nahyeon Lee brings all these disparate elements together to create something wildly special.
Ultimately, it's an exciting new work that adds to the small but growing shows that explore being Gen Z, being Asian and living in Aotearoa.
If that's not something to scream about, I don't know what is.
---
Featured photos by David St George courtesy of Punctum Productions.