Too bright for the colours that you paint me,
No that ain't me, no no no…
Afro-Caribbean singer-songwriter ASHA's recently released debut single 'Too Bright' is a potent brew: dreamy, brimming with verve, witchy in the best way. Evoking the likes of Erykah Badu and Estère, ASHA—As a Star Hovers Above—is an exhilarating new face in the Aotearoa music scene, with a couple more singles on the way this year and an EP due early 2024.
ASHA (she/they) has known music all her life, growing up in the UK as a 'band kid' at school and surrounded at home by a family that loved jazz, soul and music (including, it must be mentioned, the karaoke machine owned by her parents). Now based in Tāmaki Makaurau, ASHA spoke to Callum Knight for bad apple about her journey so far, stepping into her full self as a Black Femme artist, and the collabs she's manifesting for the future.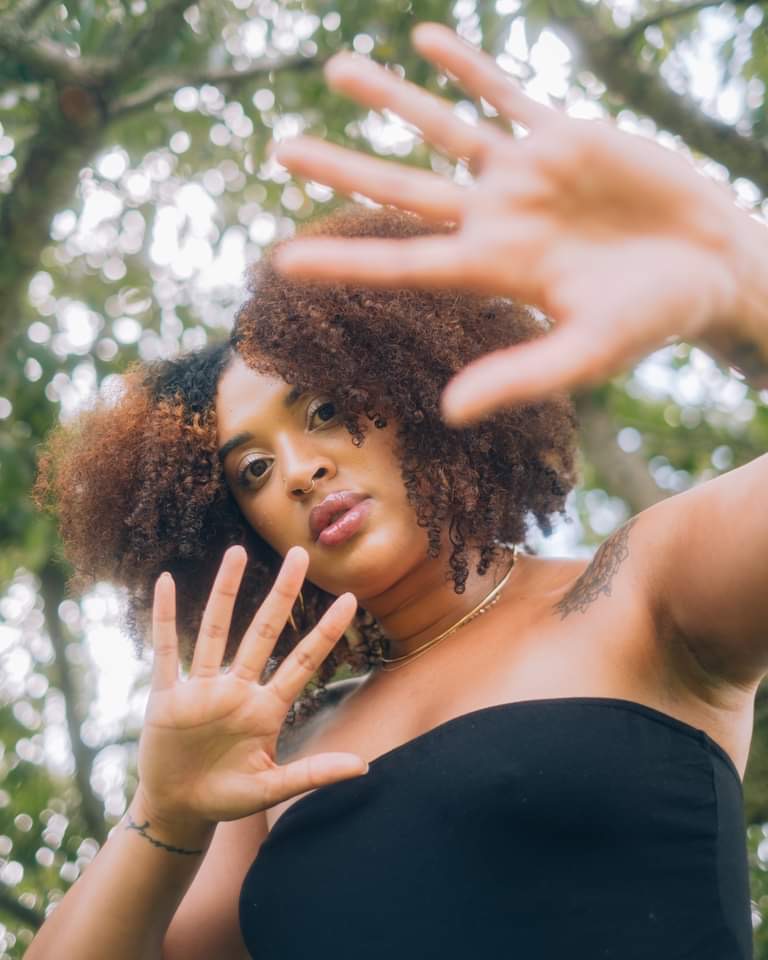 CK: Congratulations on releasing your debut single! How does it feel to have your music out in the world like this?
ASHA: It feels absolutely wonderful to have finally released my debut single! It's been something that I've dreamed about for years, manifested about, and only in recent years planned for. It goes to show that as soon as I fully set my mind and heart to this goal, it came to fruition with ease!
I'm not expecting my whole journey to look and feel this way (would be cool though) but this release was a powerful reminder to myself that I am worthy of this journey and worthy of chasing my dreams.
CK: I love the journey you take us on in 'Too Bright'—your flow in the chorus is just impeccable. What's the journey been like for you, getting to this point in your career?
ASHA: My journey has been a slow and steady one but full of growth. I've always been a very musical person. From a young age, I was that geeky band kid that played the alto sax and clarinet and spent my weekends practising with my school's orchestra and Jazz band! As a child and young adult, I have always jotted songs down in notebooks and created bits and pieces of music for my own enjoyment.
It really wasn't until I was deep in my twenties that I wanted to go in another direction with my love for music and seek out opportunities to compose music alongside my peers and release some tracks! My good friend Mazbou Q (or Unchained XL) has played a huge role in my journey. He has always encouraged me and maybe without realizing it, he helped me to unlock my own internal barriers that were preventing me from recording and sharing my music beyond the privacy of my notebooks.
CK: Who did the artwork for the single? It's stunning! What prompted the design angle, and how do you see it tying into the music?
ASHA: My beautiful sister Adele Hall or @eledallah on Instagram conceptualized and painted the artwork for this track! She is an artist and creative and has a wonderful way of interpreting concepts in her own unique way. Essentially, I handed her the track to listen to and asked her what inspiration or themes the song provoked. I think the cool thing about my sister doing the artwork is that she was able to interpret the song, its lyrics and deeper meaning in such a genuine and personal way, as she knows me better than most!
In the artwork, she painted me with a bold flaming afro to highlight the power and warmth that is generated when you step into your full self and be unapologetic! 'Too Bright' is literally about being beyond, or 'too bright' for all the socially constructed boundaries that are placed on me as a Black Femme! and she nailed it with the art!!
CK: What's the whakapapa of your stage name, As a Star Hovers Above?
ASHA: My stage name came about through conversation with a friend of mine. I wanted to use my name but didn't want to at the same time so I shortened my name to ASHA. And from that, I brainstormed about what this name could mean from the lens of 'what music means to me' and therefore what my music name needs to embody. I also asked a few mates for their thoughts!
'A star hovers above' speaks to the power of music to bridge the gap between reality and our dreams or our imagination and I hope that my music will act as a portal between my dreams and real life—and help me to explain all the feelings and experiences that come with living and existing on this planet!
CK: How have you found working on your music over the past few years?
ASHA: I've found the process of dreaming and creating very elevating. As someone who has a LOT of feelings and a LOT of thoughts. It's been a very therapeutic exercise for me to scribble down my most authentic thoughts and feelings and turn them into tunes. I've learnt a lot about myself in the process.
Pulling an idea out of your brain and expressing it through music is such a beautiful undertaking. However, I don't have ALL the skills myself and to date I've worked with wonderful producers such as Unchained XL and Alinafe (@alinafe23 on Instagram) to help bring my ideas to life. I've taken my time with my music and connected with producers and artists that I genuinely vibe with. This means a lot to me as I'm now surrounded by a small network of friends that create a safe space for me to experiment and create music.
CK: Let's say you could have any one person listen to your music. Who—and why?
ASHA: I would have Mahalia listen to my music as I love her, and I feel we would make an absolute banger together. I've been manifesting opening for her if she ever comes to NZ! LET'S GOOOO!!
CK: If you could collaborate with any act, living or dead, who would it be? What draws you to their art?
ASHA: I would defs collaborate with Erykah Badu. I mean, she's a LEGEND … and godly … and so out of everyone's league … but … I'd LOVEE to create a funky, jazzy little number with her and be adopted into her musical family. If that ever happened, I think I would pass out or die of happiness. I am drawn to Badu's art for the sheer realness and rawness of her style and lyrics.
CK: Along the same lines—dream venue to play at?
ASHA: Ohhh this is a good question!! I can't give you an exact venue! But I would be blessed if my music was ever impactful enough to take me around the world playing in all the places!
CK: Last question! Is there going to be a release tour for the EP?
ASHA: There most certainly is! Keep an eye out on my socials in the next 12 months! But until then, I'll be dropping little gems from my project that I've been working on with Alinafe! I can't wait to share what we have been working on with everyone!!!!!
With love!!
ASHA
---
Featured image courtesy of ASHA.