Hyper-pop icon Hybrid Rose is back with her dazzling high-energy single 'Planet Intercourse', the first release of her upcoming sixth studio album and follow-up to 2022's HyperKunt. Already topping the BFM charts, 'Planet Intercourse' — written and produced in collaboration with Canadian producer Samuel 'LOZ' Lozano – presents a dynamic blend of disco, funk and electronic influences to hurl you right out of this galaxy and onto the cosmic dancefloor. Get that pussy ready because this femme diva is taking us for a climax in the stars.
For bad apple, Devon Webb sits down with Hybrid Rose to discuss all things pop and powerful.
DW: You've been busy lately — moving cities and securing several live gigs, releasing not just an album last year but an Ultra edition numbering 22 tracks, and going through a self-described 'rebrand'. Can you tell us about this process? What was the experience like?
HR: I think the move just felt like a natural shift, as if I'd achieved everything I could in Wellington and ran out of opportunities. I've been doing it all alone too, with emotional support from Mum over the phone, so it's been quite consuming in terms of time and brain capacity — but we're here now, and I've already played some amazing queer-centric gigs which has been such a great experience and way to celebrate the community. The scene up here feels like it's providing me with the possibilities I've been looking for, so I'm very excited and optimistic about the future!
DW: And now this new single — the first release of a sixth album! Is there anything new with your style, any recent discoveries within your artistry? What are the themes of this new track and what should we look forward to with that end-of-year release?
HR: Yessss!!! The most important thing to note is that I feel like I've finally found the middle man between what people like about my music and seem to gravitate towards and the sounds and ideas that I personally love about my own artistry, and right now it feels like a lil' harmonic dance between the two, which is beautiful.
You should definitely anticipate more drama, creative shifts and artistic development. There's so much I can't wait to expand on. During HyperKunt, I was able to grow more than ever, but halfway through I was so burnt out that I wasn't able to go all the way with my intent upon release and pursue all the opportunities I wanted. This time, it feels good to have all of that thought through, so it can be a natural process with more time to grow and space to breathe.
DW: Listening to your music, and particularly this new track, it's made to be listened to live — do you have any upcoming shows or aspirations in that regard? Tell us a bit about your upcoming CubaDupa set, which has been a year in the making. What are your favourite live performances so far and is there anywhere, or in any capacity in which, you'd particularly love to perform?
HR: OMG thank you!!! The intent was purely so everything would sound kunt live. I just want to have fun on stage — I'm so ready to flick my pussy till glitter shoots out of my metaphorical labia majora. It's also really nice to let my personality shine through, especially being so introverted and not having a lot of people to be exuberant around.
The CubaDupa set has been TWO YEARS in the making — so naturally, it's well thought out, planned and prepared to the smallest detail. I've even planned my street looks for the time I'm down in Wellington. Every opportunity to travel (a bonus!) and to perform should be an experience and a moment in itself. Every picture or playlist, interaction or choice made counts, so that in my recharging times I can continue being productive.
I would love love love to perform at bigger festivals like RnV, Twisted Frequency, Rhythm n Alps, etc. It would also be such a dream to open for more international acts — if any of y'all are booking!!!!!
'To all my allies — MAKE ACTIONS!!'
DW: Who are your musical or creative aspirations? Anyone local who's had a particular influence on you?
HR: Locally, I feel like DARTZ has sorta rubbed off on me, with their performance styles, as well as music concepts. I like the way they write and also execute their ideas. They're in touch with the past and present and know how to reprise it for the future.
I also still admire artists like Gingerkiss and Ursula Le Sin, they were and still are my favourite acts around Wellington. I like the craziness and hardcore performance style of Gingerkiss, and I just love the poise and classic elegance demeanour that Ursula had. They're always in my heart and head when making music and performing onstage.
DW: Do you think the trans community is being well-represented and supported, and is there anything ally fans and promoters can do to contribute to this?
HR: To all my allies — MAKE. ACTIONS!! This is something that needs to be said AND DONE: I'm glad you see us and hear us, and allow us to live comfortably (to a certain extent), because it's what we deserve, and should be the bare minimum. What needs to be done is tangible action — signing petitions, donating to charities, if your queer artist friend has a gig — PAY MONEY TO GO. Cheer them on and allow them to feel validated in their art. We give allies too many brownie points for just letting us exist — go to Pride gigs, be vocal, and show your appreciation.
DW: What are your ambitions for the future? What next, after this album? Do you have any visions for the 'next level/phase' of Hybrid Rose?
HR: The next phase of Hybrid Rose is unclear. The album lives with me as I simultaneously grow past its completion — it isn't out 'til November so who knows where I'll be by then. Time is undecided and I don't want to overly prepare myself for something that doesn't exist, only for what's happening right now.
'Planet Intercourse' is out now on all platforms. For those in Te Whanganui-a-Tara Wellington, Hybrid Rose will also be performing live on the Garage Project stage at CubaDupa on Saturday 25 March at 5:30 pm.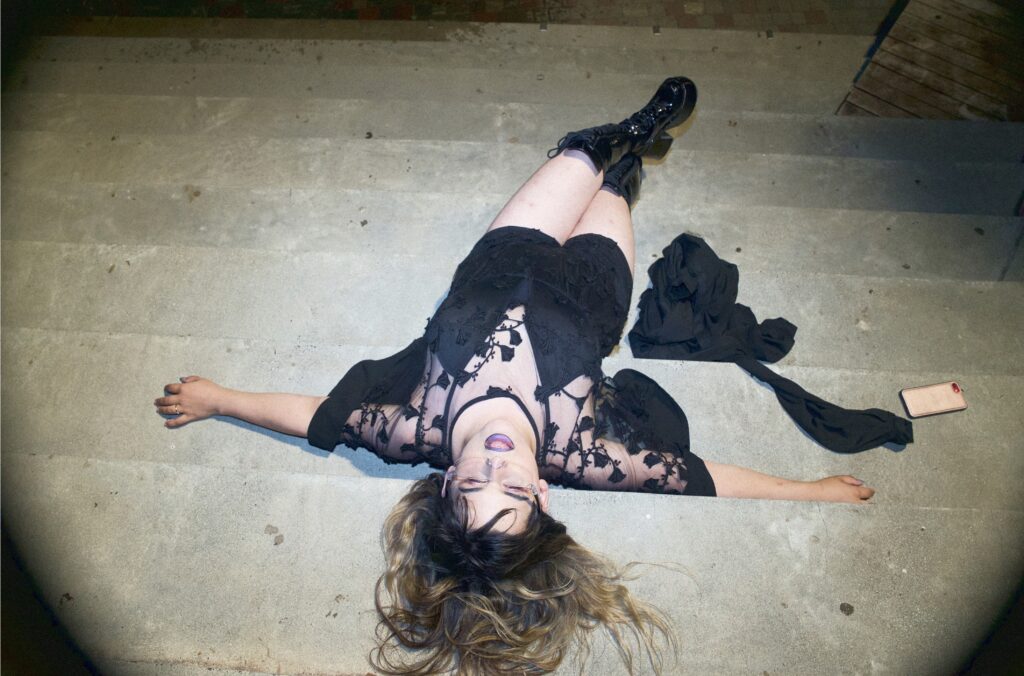 ---
Featured images courtesy of Hybrid Rose.