I'm told, on the sly, in the Basement bar, that things are running slightly behind. The second half of the 7 pm performance—the first of two on a night that marks the Show Ponies premiere in Tāmaki Makaurau—is still ongoing. There won't be much room for breath before the 9 pm session. Four of the performers are stationed near the entry to the theatre space, awaiting their cue to enter for bows. As they wait, Basement's front-of-house fills up: I spot faces from the usual crowd, plus a milieu of other artists, editors, friends I didn't know were interested in poetry, out enjoying the closing weekend of Auckland Pride. Arts administrators from both Pride and samesame but different, hosting Show Ponies as a collaboration between their festivals, arrive as the poets head in for bows. Then, after rapturous applause, the doors to the theatre open again. The 7 pm crowd are buzzing.
It's strange, essentially getting a review as a preview. Person after person through the now-bottlenecked Basement bar turns to anyone they recognise and beams, "you're going to love it!" I saw my first Show Ponies session at last year's Verb Readers & Writers Festival, so I'm sure I will: the line-up is relatively similar, through the rotating cast of poet-ponies in the stable. But Tāmaki has fallen almost instantaneously in love. If the show weren't sold out before, the Basement's one-road-in-one-road-out venue layout would have clinched it for any passersby.
Within the theatre space, the traditional rows of seating are fronted by a series of tables, each seating roughly five. There are layers of glittering tinsel streamers forming a backdrop along the length of the theatre, as well as a drum kit and several microphones on stands, lying in wait. I'm particularly delighted to see a pink neon sign: Show Ponies, complete with a heart dotting the singular i. Stylish. Evocative. Playful.
"This energy is correct."
We're welcomed in—and guided through the evening—by Hugo Grrrl, whose textured, shimmering ensemble delivers from head to toe, with a stone-encrusted hat-and-unicorn-horn headpiece that he jokes may fall off throughout the night, due to an earlier fastening malfunction. This emceeing job is an energetic balancing act, and Hugo Grrrl delivers with a warmth and genuine enthusiasm that carries the late crowd through excitement, interludes, biographies, and stage management tracks without lag. There are particular highlights: a reference to nudity that earns an "Excellent" from an audience member; crowd work has Hugo Grrrl uttering the phrase, "this energy is correct." I file the latter away to incorporate into my own vernacular.
The Show Ponies themselves are split into two acts: the first consisting of Emma Barnes, Vanessa Mei Crofskey, Sam Duckor-Jones, Show Ponies creator Freya Daly Sadgrove, and Ruby Solly; the second of Chris Tse, Rebecca Hawkes, Dan Goodwin, and essa may ranapiri. It's a well-sequenced line-up, as both poetry readings and pop concerts need to be. Each poet is offering up something unique, accompanied by live or recorded instrumentals, by bespoke lighting design, by backup vocalists and dancers.
Emma Barnes introduces poetry to the space with an exploration of just that: of space, of what it is to occupy space, to seek to occupy space, to exist within a body. Supported by Christine Brooks and Liv Hall, with all three performers dressed in white—layers of vocals and fabric and light, echoing, reverberating—this set is imbued with an air of the transcendent. Barnes's calm, clear voice holds the room, crystalline quality further elevated through the chorus of Brooks and Hall.
We undergo a tonal shift with Vanessa Mei Crofskey, who appears dressed for a night out on the town, light raincoat and swimming goggles included. They navigate their set with a transfixing vocal neutrality that has both poems' comedy and defiance singing. There's a ripple through the crowd at the mentions of weather events not unlike those Aotearoa has faced of late; in the poem-world, following an uncontactable Bic Runga and an unavailable Dave Dobbyn, Crofskey turns to Brooke Fraser at the end of the world. Backed up with sound design by Oliver Devlin, Crofskey moves us from the apocalyptic swimming pool to the streets of Ōtepoti and Pōneke, interweaving poetry with choreography and commentary both.
Third up, Sam Duckor-Jones takes to the stage with dancers Andre Lauron and Al-Gervahn Lisimoni. Duckor-Jones's set comprises a cascade of iterations of the self: the self as energetically presented to the poet by Lauron and Lisimoni in alternation, and then detailed aloud from an almost endless series of fiery-tulle-adorned picture books while each dancer performs. Duckor-Jones—facial hair dusted with glitter, clothing reminiscent of the greatest look Killing Eve's Villanelle ever wore (pictured below)—plays a light recurring gag with every new book, before settling into the poem, allowing each discarded self and each discarded book to collect on the floor. By the end of the set, both pages and poet are engulfed in fabric flames; there are chuckles from the audience as stage management has to clear the space with a large broom.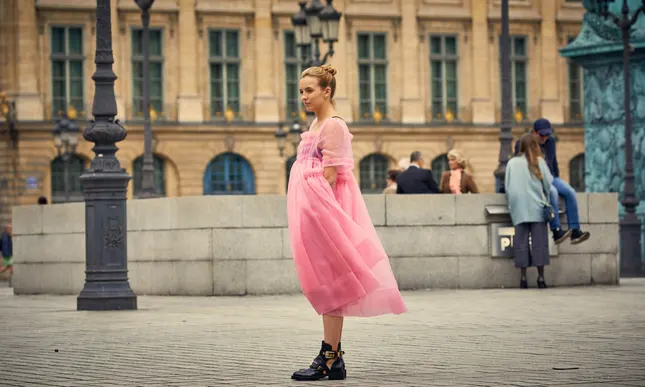 For Freya Daly Sadgrove's set, she's joined onstage by drummer Callum Passells. It's exciting to see the creator of Show Ponies perform in the line-up—she emceed when I saw the show at Verb—and as she performs, voice uncompromising, head banging, utterly unencumbered, I can't help superimposing in the clip of her Featherson Show Ponies set in Ultimately Lacks Polish. I get why the noise would have posed an issue. But also, like: legend. Daly Sadgrove performs with a distinct self-possession, a swinging emotional pendulum garnished with a Backstreet Boys joke. It's a shock of potent energy. It's a product that knows absolutely what it is.
Ruby Solly closes out the first half in a masterclass of multidisciplinary talent. Mixing poetry and live taonga pūoro with prerecorded music and vocals, Solly plays accompanist to herself several times over. The resultant set is rich in text, sound, and performance. It's faultlessly interwoven, live and prerecorded elements layering as though in unfolding conversation. Solly's work is expansive in tone and content, humorous in its frank opening indictments of the medical system, deeply affecting in its traversal of Indigenous identity and eldest daughterhood. It's a truly stunning performance: enthralling from beginning to end.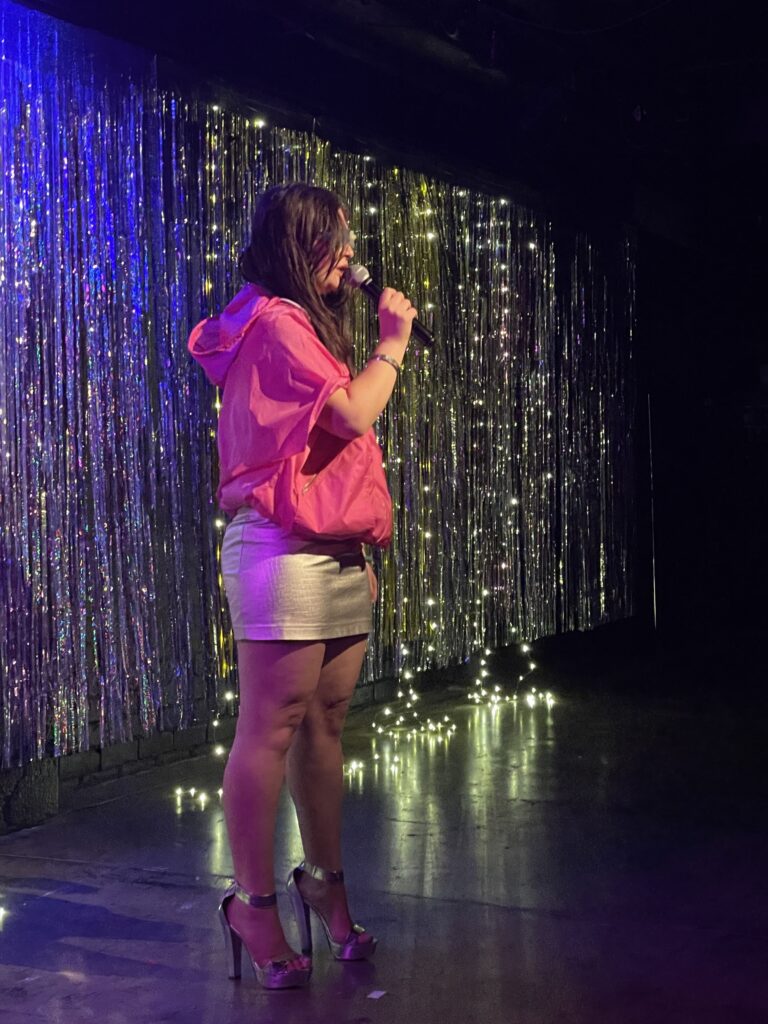 Following the intermission, we return to the line-up with a performance by current Poet Laureate (and samesame but different 2023 Honoured Writer) Chris Tse. Dancers Andre Lauron and Al-Gervahn Lisimoni return for this set, and Tse proves himself every bit the pop star: exceedingly charismatic, nailing the choreography, turning the removal of a jacket into a Moment™ that rightly brings the house down. There's a distinct electricity to the room, a warmth and collective delight—it's the closing weekend of Auckland Pride, and we're experiencing Show Ponies in Tāmaki for the first time, and it's stacked with queer poets, including the Poet Laureate himself. What a gift to have. What a night to hold onto.
Rebecca Hawkes takes the stage after Tse. Clad in heavy boots, skull-and-crossbones fishnet tights, a coat painted with flames, and a sequined red fedora to match, Hawkes dissects internet-exacerbated male entitlement from the inside out in a poem that is both shrewd and genuinely funny. Dancers Hayley Tekahika and Lara Chuo join Hawkes onstage, gaming chairs, fedoras, and red lightsabers in tow. All three performers really lean into the bit. The tail end we-swear-we're-really-going-this-time-actually gag is a particular highlight, measured perfectly.
The penultimate slot of the evening is filled by a performance poet on home turf: 2021 Auckland and National Slam Champion Dan Goodwin. With its zoned-in lighting design and a spectacular instrumental by Eamonn Marra, Goodwin's performance takes on an almost cinematic quality. There is a wholeheartedness to the piece, generous and not overwrought, examining gender and the abundance of the universe, propulsive and expertly held by Goodwin. They are a distinctly open performer. Hugo Grrrl is—as, no doubt, others are—brought to tears. It's understandable: as a witness, you can't help wanting to meet Goodwin heart-first.
Rounding out the evening is essa may ranapiri, for whom it has been a busy evening; only a couple of hours ago, pre-7 pm show, they were giving samesame but different's 2023 Peter Wells Lecture. Nevertheless, at this time of night, they continue to deliver. Joined onstage by Ruby Solly, who provides stellar musical accompaniment, ranapiri presents a tale centred on Echidna, for whom their most recent poetry collection was named. It makes for a perfectly balanced set: ranapiri's smooth, measured delivery is as captivating as the aural world Solly builds. Together, they present a compelling, intricate conclusion to the show. ranapiri—and Echidna ("Echidna, Echidna")—superbly guides the evening to its close.
When the curtain call comes, it's to applause that goes on and on and on. It's to cheers and utter joy. It's to yet another crowd in Tāmaki enthralled with Show Ponies. And you know what? That energy is correct. To paraphrase an SNL icon, this—show—has—everything! And we'll have it back any time, thanks. May the Ponies ride again.
---
Featured photos courtesy of Damien Levi. Emma Barnes photo courtesy of Rebecca Shaw.