The Rise of Homophobia and Transphobia in New Zealand
---
CW: violence, terrorism, homophobia, transphobia
---
13 June 2016
It's been raining so the stairs I climb up to the microphone are wet. I turn to face the crowd, blurry dots of candlelight looking back at me in the dark winter evening.
I'd never been to a vigil before, but every part of me knew I needed to hold communion with others, to stand in the rain with our community, and bear witness to the pain of it all.
I felt called to get up and speak. I mumble nervous ums and ahs into the air, and then it comes to me: "I am angry and I am sad and I am scared. As a young queer person it's hard because I think, is this my future? Is this my life? Is this what it's going to be? I struggle a lot with hope, but I wanted to say seeing everyone here with your candles and everyone here together, is really helping me hold on to that. Thank you."
This was my reaction to the mass shooting that took place at Pulse in Orlando, Florida, USA: a queer nightclub, that was happily celebrating Latinx Night that evening. At the time I was only 17. I scrolled through articles all day at school and kept up with the movements inside the club in real-time. My mates and I left class and sat in the counselor's waiting room all afternoon.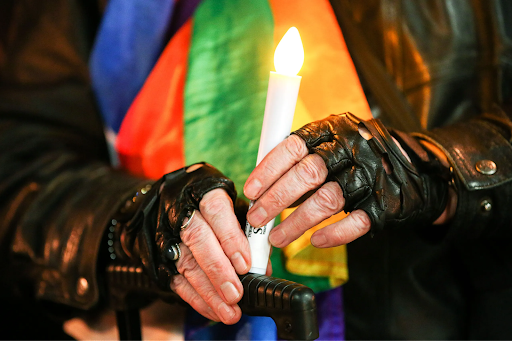 Realising that who you are could be something that puts you in danger one day, is a fear that never really leaves. For me, that day was the first time that fear ever kicked into place. Yet, as sickening and scary as it was to read about it all unfolding, to know exactly what had happened, it still felt so far away from us. We were in New Zealand. We didn't have mass shootings; we had freshly minted marriage equality and Pride Parades in big cities, we gathered in dark parks to grieve and lit up the Sky Tower in rainbow colours. To young, privileged, 17-year-old me, that meant we were okay.
Yet today, I wonder if rainbow youth across our country felt a similar fear on 16 June 2022.
Bethlehem College, a Christian school in Tauranga, has recently come under fire for asking parents to sign a statement of belief, saying marriage should only be allowed between a man and a woman. The school also launched an investigation after alleged threats made to students openly supporting the LGBTQIA+ community. I struggle with the correlation between these two instances, if the Ministry of Education doesn't clearly put its foot down when schools, religious or not, promote hate, how can any student in this country be safe?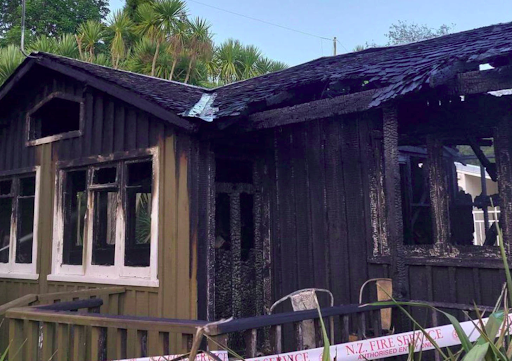 The bullying and the statement of belief were only the beginning of this story. On Thursday, 16 June, a building in Tauranga's Historic Village complex shared by both Gender Dynamix and Rainbow Youth (organisations aiming to meet the mental health needs of trans and nonbinary people living in the Bay of Plenty) was targeted by a 'suspicious' fire. It doesn't paint a pretty picture, but rather a concerning series of events. One that is fueled by hate, bigotry, and a lot of anger. I fear the trajectory of this kind of violence, and where it might lead next.
The situation in Tauranga didn't happen out of the blue. Hate festers and grows if we ignore it. To me, it feels like the pot is boiling over. Discrimination against rainbow communities is continuing to rear its head in our own country, and the government's lack of action is noticeable. With the recent surge of anti-trans and gay legislation in the USA, it becomes nerve-wracking to think about what might happen next here.
Politically we often look to the United States to contrast where we're at in New Zealand. It's used as an "Oh, but at least we're not as bad, we've got the moral high ground." But if any kind of violence can exist in the USA, even with its own complete dis-regulation of gun control, it can still seep its way in here. We saw this play out in real-time, in the most painful way, in March 2019.
In the report of the Royal Commission of Inquiry into the terrorist attack on Christchurch masjidain on 15 March 2019, they reference a study that found "there appears to be a continuum between the bias-motivated actions of non-extremists to the hate crimes and terrorist acts committed by far-rightists, with the presence of one type of activity seeing an escalation in the next type. As a result, it appears that hate crime and terrorism may be more akin to close cousins than distant relatives."
(Colleen E Mills, Joshua D Freilich and Steven M Chermak "Extreme Hatred: Revisiting the Hate Crime and Terrorism Relationship to Determine Whether They Are 'Close Cousins' or 'Distant Relatives'" (2017) 63(10) Crime & Delinquency.)
For example, the anti-trans group Speak Up for Women continue to operate throughout the country, and emboldened schools like Bethlehem College to create unsafe spaces for rainbow young people. Groups like SU4W, and some religious groups, preach their hate as truth, and more often than not, get away with it.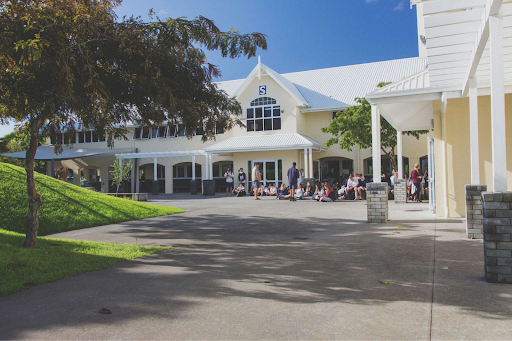 In David Farrier's latest webworm he outlines an internal document from Bethlehem College titled 'Summary of Beliefs'. In David's words: "Bethlehem College lays out some fairly specific ideas, boiling down to this: 'Apart from intersex individuals, the biological sex of a person is determined at conception to be male or female and their gender identity should align with their biological sex' … The document goes on to rally against hormone treatment etc".
As much as these ideas harm young rainbow people, they also start to build hate, fear, and resentment in those who are not.
Claire Black, General Manager for OutLine Aotearoa, sums up the current state of things in New Zealand on Twitter*: "I'm thinking about how relentless and interconnected [the hate has] been recently: the hostile rhetoric around BDMRR and Conversion Practices; the bad faith arguments about hate speech; the attacks on InsideOUT, the graffiti on the Pink Church in Greymouth…
It's also impossible to disentangle the impacts of what happens here vs overseas. The internet and social media are so so important for connecting Rainbow people, but they also connect us immediately to all the anti-Rainbow stuff that's happening everywhere."
There is so much more to the queer experience than fear, but any fear we do have is based on a very bleak but true reality. We are at risk, and with every plight of casual transphobia in our media, homophobia in our schools or workplaces, and for every MP who voted against the conversion therapy ban or the updated BDMRR Act (Births, Deaths, Marriages, and Relationships Registration Act), we get hit hard. It's like a building, brewing storm. And without government action to address this hate and the roots of its causes, we're left to fend for ourselves, like sitting ducks waiting for the next big one to hit.
Alongside community groups and leaders, The Green Party has put out calls for a Ministry for Rainbow Communities, for changes to the Human Rights Act to better protect rainbow communities, and for the public education system to better protect rainbow students. This is a good start, but without the Labour Party or other political parties coming to the table, for now, they're just calls falling on silent ears. We need action on harm prevention, and community building as much as we need crisis intervention and recovery.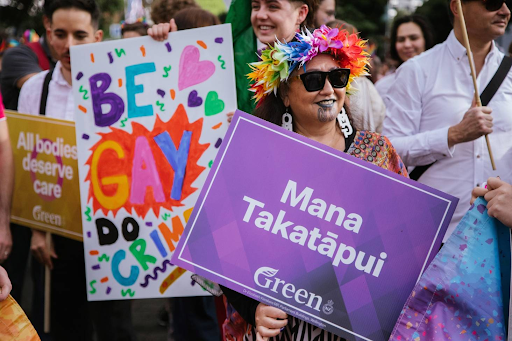 I reached out to some young rainbow people on social media. I wanted to know what they think about the rising homophobia and transphobia, both in New Zealand and across the world. They echo Claire's concerns around the rise of far-right ideology and action, and our hyper-awareness of it here in Aotearoa.
"As a student advocate, I've gotten a lot more cynical about being a queer person in this country, especially as I've struggled to get rampant homophobia and transphobia shut down in a school environment … I think what's happened in Tauranga is fucking horrific, and I'm shocked but not surprised – I think it's a symptom of a much wider problem.

I hope that things won't get worse … but judging by the meteoric rise of far-right bigoted rhetoric in media, especially overseas, which is influencing people here, and online which leads to those views being disseminated among youth, thoughts and prayers aren't going to get us very far."

— George**, 17, Tāmaki Makaurau
"I'm worried that the effects of recent events are going to be felt for a long time, and what this will mean for Tauranga in the long term.

I think of queer kids who've just started to explore their identity and what it means to them, and how much more scary this could make it for them to do so. I think of parents, teachers and other figures in kids' lives – will this embolden some to be more open about anti-LGBTQ+ viewpoints? I hope not."

— Alex**, 17, Waitaha (Canterbury)
These young people are acutely aware of cause and effect. How things snowball over time. I didn't have that when I was their age, and I wasn't as plugged into international politics. They know that more action is still needed here and that the fight to live freely must go on.
When thinking about what comes next, we discussed the future. Like all movements for human rights, we know that the arc of change can be long. It can be hard to on onto the hope for change, but these young people seem to have it on lock.
"I think that we as a community are far, far stronger than what the world is throwing at us right now. The onus, however, is now on our systems to protect the most vulnerable of us and ensure that we do all get through this.

It's high time for our institutions – especially the health and education systems – to step it up and walk the walk when it comes to affirming our identities and helping us to thrive in this country.

In my view – is there a lot more to fight for? 100%. But is the future brighter? Absolutely."

— Alex
"I certainly have hope for the future because I know we've come a long, long way and there are plenty of people who are willing to take on the fight for those of us that cannot speak up"

— George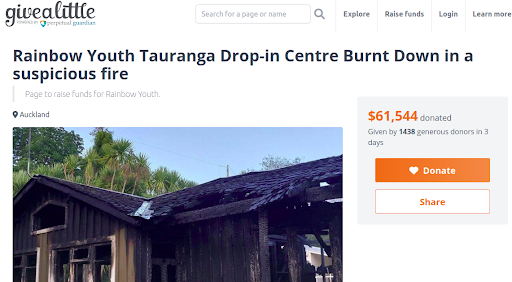 Even though those with the most political power in this country often do not use it well, we still have each other. We can build strong communities around collective care, hope and resilience.
We push, we fight, we dance, we celebrate, we grieve, we win and we go on. Together.
The outpouring of aroha and support for the rainbow community in Tauranga has been phenomenal. In under 24 hours the Givealittle page set up for Rainbow Youth got over 40k in donations, and as I write this is now sitting at 61k. That money will save and change lives.
In June of 2022, over 280 schools participated in InsideOUT's national schools Pride Week. With schools in every region across the country celebrating, and accounting for almost 50% of all secondary schools in Aotearoa.
We fought and won the passing of the Conversion Practices Prohibition Legislation Bill into law, and the amendment of the Births, Deaths, Marriages, and Relationships Registration Act in 2021. Both of these changes were campaigned for over many years and were pushed through by grassroots activism.
Last year also saw Speak Up for Women hold a talk at the Michael Fowler Center in Wellington, but over 1000 Wellingtonias rallied right outside, chanting for trans rights. Even when the Wellington City Council couldn't stop the event from going ahead, our people and our allies got out into the street, as we have always done.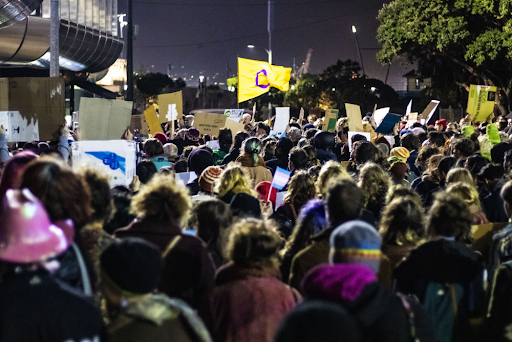 Recently queer comedian Chris Parker won the NZ reality show Celebrity Treasure Island, with his chosen charity of Rainbow Youth receiving $100,000 because of his commitment and hard work. We also had our first same-sex couple on NZ Dancing with the Stars in 2022, with Eli Matthewson giving it his all.
I don't struggle with hope as much as I did at 17. I've seen time and time again, the power of people working together. I've seen queer joy and action come to life. When hate boils over, it's easy to be quick to assume that those who let it into the world are the majority, but they simply are not. Our collective love and strength are bigger than any of that could ever be.
We can rally in the streets, campaign, take care of one another, rest, heal, and advocate. We can vote in local and national elections for people who can bring to life the world we want to live in. No matter what, we will keep pushing those in power inch by inch towards safety and peace for our community.
As Alex confidently and hopefully says: "We deserve so much good, and we will live to see it."
---
bad apple encourages you to donate directly to Gender Dynamix and Rainbow Youth.
Support services:
OutLine: Call us on 0800 688 5463, we're here every evening, 6pm-9pm
Rainbow Youth: Online Support Chat
InsideOUT: Legal Rights at School: A resource for young rainbow people in Aotearoa
*Tweets used with permission
**For privacy and safety real names have been removed from this article
---
Featured image is a composite collage, the primary photo credit belongs to David Hindley.
Gay rights march, Wellington, New Zealand. Dominion Post (Newspaper): Photographic negatives and prints of the Evening Post and Dominion newspapers. Ref: EP/1985/2384/13-F. Alexander Turnbull Library, Wellington, New Zealand. /records/22914863