It's not hard to queer Shakespeare. Not only did the man love a double entendre, he peppered his plays with gender-bending characters and nods to queerness in the close relationships between men. See: Antonio and Sebastian in Twelfth Night, Olivia and Viola in Twelfth Night … actually, the entirety of Twelfth Night is a gay romp (even the attempt to hetero-wash it in the 2006 film She's the Man pretty much fails to portray its romantic leads as anything but queer).
The latest addition to the incredible history of queered Shakespeare is Tāmaki Makaurau's own Stray Theatre Company (STC) performing Much Ado About Nothing this weekend. Their version of the play features two queer women as our Benedick and Beatrice, and is set in the 1990s. STC is the University of Auckland's student-run drama club, and this is one of four shows they'll be putting on this year.
Here's a rundown of this show and what to expect, from director Rose Herda. There's still time to see it, so don't miss out! Catch it at The Tuning Fork on Friday 20 and Saturday 21 May.
---
How would you describe this play in a sentence, for people who aren't in the know?
Much Ado About Nothing is a play about people being in love, and the things that get in the way of people being with their loves (with a queer, nineties twist in our version!)
So how did the concept for this version of Much Ado About Nothing come to be?
This show came from a want for some fun, comedic theatre with a queer lens! Shakespeare's comedies haven't been performed as frequently in Tāmaki Makaurau in recent years, so it felt time to make a show that was enjoyable for Shakespearean junkies and newbies alike. This led to a nostalgic 90s theme, in addition to the play's queer-centric focus.
Why is it important to you that this show is queer?
Queerness has always been a part of Shakespearean performance one way or another, so this is just one version of that tradition which puts queer women at the centre. The Bard is famous for capturing the human condition, and this show seeks to find queer women's place in these renowned stories.
If you had to compare the main characters from Much Ado to popular characters or celebrities now, who would you pick?
It's hard to compare the characters to actual celebrities, but the culmination of them all together is sooo similar to the ensemble vibes of shows like Friends or Sex Education – a lot of big personalities all together in the same place!
What do you hope the audience will feel after watching your show?
All the feelings!! Laughter, sorrow, joy; we're going for full catharsis here. This show is side-splittingly funny, heart-wrenchingly tragic at times, and ultimately comes together with a rousing Elizabethan jig. It's one not to be missed!
---
I'll be seeing the show this weekend, continuing my long tradition of seeing and reading absolutely any queer retelling of classic literature I can find. There's no better catharsis for the teenage version of me that was starved of queer love stories, and survived off homoerotic subtext alone. Even in the pop culture landscape we exist in now, where queerness is explored far more than ever before, there's a specific satisfaction that comes with seeing implied queerness of the past made whole and visible, and performed with joy.
Get your tickets for STC's Much Ado About Nothing on Moshtix.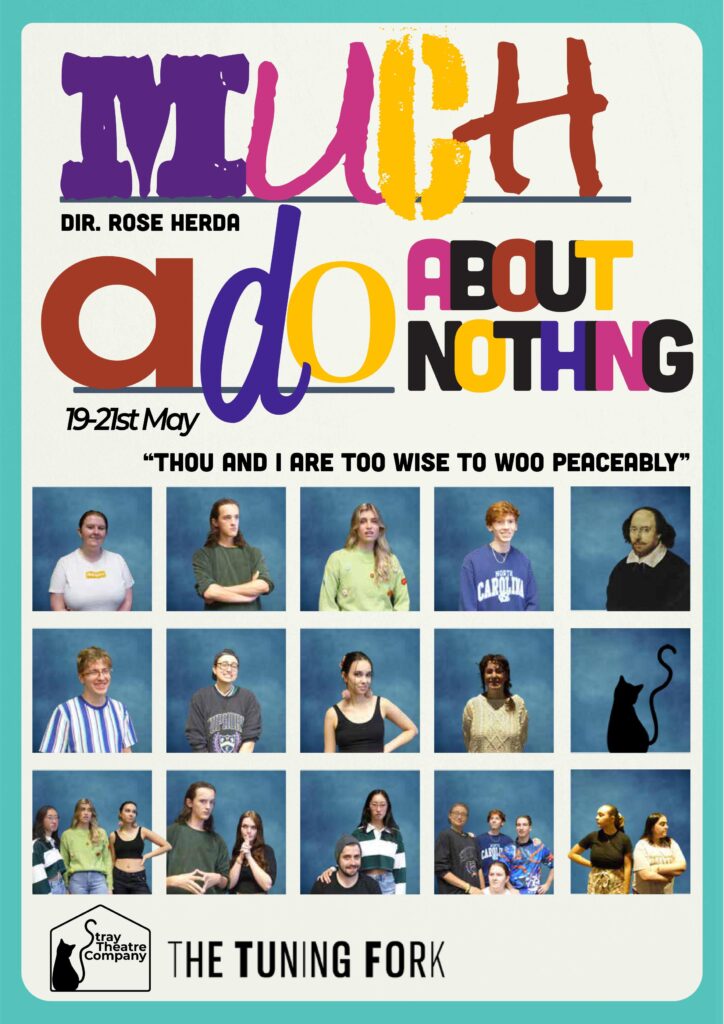 ---
Featured images courtesy of Stray Theatre Company.