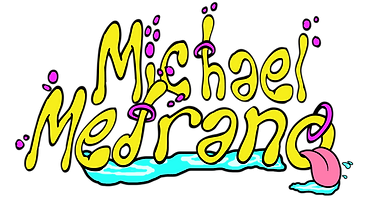 Michael Medrano has been hustling for years and it's time the LA-based singer-songwriter gets his dues. Dropping his first track back in 2016 to little fanfare, success has been a slow burn for Medrano. Things picked up in 2019 with "Fluids", now streamed over two million times on Spotify.
It was clear Medrano decided to mix things up, both visually and musically, in the time since his debut. He rebranded as a man for the people, a man for the thots. It's been two-and-a-half years since "Fluids" and Medrano has been steadily dropping sexy tracks and sexy Instagram posts.
2022's "Naked" from the upcoming album LoveSexDrugs fits the bill exactly. Written by Medrano and co-produced with Dan Gleyzer, it's a no-strings-attached thot anthem for the dancefloor. With a funky bass guitar focus and some simple synth undertones, this is a song made to gyrate to. Medrano has syrupy layered vocals in a falsetto that's quickly becoming a signature for him. There's also the absolutely genius inclusion of one specific sound in the mix. It's the tell-tale 'csshhhk' of a beer can opening and it couldn't make more sense. The whole vibe is late '00s, early '10s grungy pop music a la 3OH!3, Ke$ha and Cobra Starship, but given a make-over for the new decade.
Let's get into the lyrics. The chorus is smooth, as if Medrano is whispering sweet nothings into your ear. Sure, those sweet nothings are "I like us better when we're naked, I like you better when you shake it," but it still feels like heartfelt confession. It's in the bridge where things get saucy. Things start stripped back with a robotic and hypnotic modulation on Medrano's voice as he chants – "Shut your mouth, turn your ass around and make it bou-bou-bounce ceiling to the ground." It's easy to imagine how hard this would go in the club or a few drinks deeps at your next queer house party.
Ultimately, this track is gonna get booties bouncing on the dancefloor wherever it's playing. There's not much more we can ask for in this day and age. Get Michael Medrano on your party playlist and support an independent queer musician make some coin!
---
Featured photos captured by Isaac Luna.